If you've been considering buying a portable generator or you're just someone who has an insatiable curiosity for generators, you must have surely noticed "that blue generator" making rounds in the news.
To be honest, the smart and sleek blue Yamaha EF2000iSv2 never fails to catch the eye. Designed to be one of the smallest and most silent of its kind around, this baby looks as harmless as a new bride's vanity case in a 'chick lit' novel, yet it could light up a full house and still keep you wondering.
So there's more than meets the eye here, and we are here to unravel the mystery behind this powerful machine that has been hiding behind its deceptively feminine looks.
Yamaha EF2000iSv2 Review
The Yamaha EF2000iSv2 is a 2000W portable RV inverter generator from Yamaha's silent generator range that promises noise-free operations and uninterrupted power backup for your most essential needs. When running on quarter load, it can give you 10 hours on a full tank. One of the most positively reviewed generators; Yamaha might have just struck gold with this magnum opus.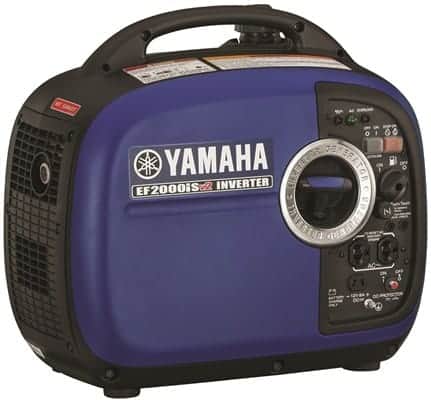 Specifications: The Engine of this Yamaha generator is an OHV, air-cooled, single cylinder, 4-stroke with cast iron cylinder. It has a Max AC Output of 2000 watts versus the Rated AC Output of 1600 watts. The Max AC Current is tested to be 16.7 amps @ 120V compared to the Rated AC Current of 13.3 amps @ 120V.
It has 3 Outlets: Two 120V AC outlets and one 8 Ampere 12V DC Outlet
Set up: If you are a novice, never underestimate the need to properly set-up your generator for the first time. You will also have to correctly break-in the machine, which involves first-time lubrication and oil change while the machine is running.
Break-in of a generator is crucial as it helps dislodge metal pieces which can otherwise damage the engine. Be sure to read the instruction carefully for first-time use.
Fuel: The Fuel tank capacity on this one is 1.1 gallons, and your safest bet is using the highest octane gasoline that you can purchase in your budget. It also comes with an oil warning light, a fuel gauge, and an auto shutdown feature when oil is running really low.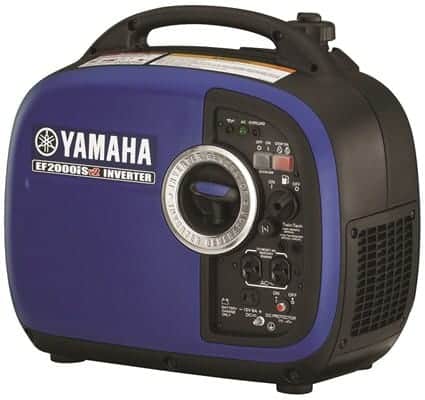 Size and Weight: Weighing around 44lbs, the dimensions of this generator are 19.3 x 11.0 x 17.9 in
Warranty and Certifications: – This Yamaha silent generator is EPA approved and CARB-compliant.
It does have an excellent 3-year warranty, but you need to be careful not to void the warranty which will happen in case of poor maintenance or using parts other than Yamaha.
---
EF2000iSv2 V/S EF2000iS: What's new in Version 2?
Although the previous version from Yamaha was equally powerful and robust, an important distinction is that the controller is more sophisticated and can be programmed with greater flexibility. This also means that you can now power a wider range of appliances with Version 2 since you have a wider range of outputs.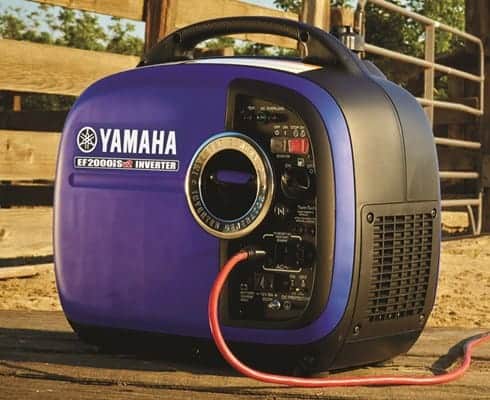 Pros: Being the quiet little ultra-portable engine that this is, you will love it if you often need to move the generator around and if noise is a huge concern.
Another plus point is that the output is very stable and you can power a variety of appliances, and as long you have gas available, the machine will run without any issues.
Cons: While there are no real downsides to this Yamaha generator inverter, we will grant you that it is a bit of a costly investment for someone just starting out or if you need to use it sparingly.
Also, if you are a bit lazy, you will find having to use a funnel to refuel the generator bit of a bother. And since it's not a dual fuel generator; you might feel compelled to use gasoline, which is pricier than propane.
Competition: With all its features and specs, this inverter generator still faces fierce competition, especially from the Honda EU2200i. So how serious is this competition, you ask? Read on…
---
Yamaha Ef2000isv2 Vs Honda EU2200i: Which is better?
Ok, so when it comes to comparing Yamaha with Honda, we got a bit scared. But how serious a threat is Honda EU2200i? Will red defeat blue in the clash of titans? Actually seems like Yamaha doesn't have too much to worry about.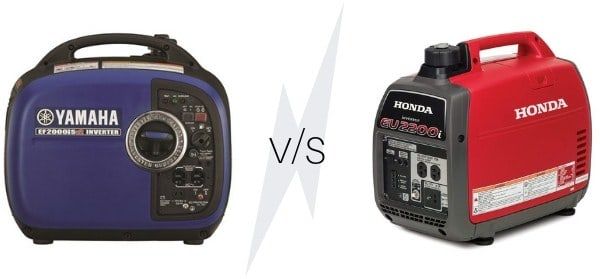 After being compared, both generators are faring almost equally in features like looks, low noise, compact size, and weight. While Yamaha's blue and Honda's red are equally classy, Honda's 57 dB at rated load is as quiet as Yamaha, and Honda EU2200i is just 2 lbs heavier than Yamaha EF2000iSv2 and almost the same size.
So do we have a tiebreaker? Well, the bottom line: the Honda EU2200i delivers 10 percent more power, albeit only gives as much as 8 hours at ¼ load.
So while both generators perform almost identically on most fronts, the Honda infact costs more. So why would one spend all the extra bucks?
It seems the price factor combined with the larger fuel reservoir, more run time and slightly less weight might just give the Yamaha EF2000isv2 the winning edge!
---
Overview: Our two-cents
Ok, Yamaha, we are indeed impressed; especially when you throw at us huge technical terms like "Pulse Width Modulation (PWM)." While that really just means this generator is safe for use with very sensitive appliances, let's give that goal to you as well.
All in all the Yamaha EF2000iSv2 wins our 'Yay' vote by an overwhelming majority. However, be sure you do not use a pocket knife to cut down a tree! Meaning: use the generator for what it ought to be used for and remember that the warranty does not cover damage from lack of proper maintenance.
So, don't blame us for our soft corner for the Yamaha EF2000iSv2 generator, after all, it's difficult not to fall in love with something so deceptively powerful concealed in something stunningly gorgeous!
Last update on 2022-06-11 / Affiliate links / Images from Amazon Product Advertising API