To enable a luxurious sailing experience; boats come fitted with many electrical appliances like navigation devices, air conditioners, audio systems, live-bait pumps, heaters, and so on.
But, keeping a regular power supply for these devices can be a challenge, especially during long sails or in remote areas with no shore power options.
Hence if you're looking for the Best Portable Generator for Boat, then you've landed on the right page.
An excellent portable marine generator is a significant investment. isn't it? There are several types of generators available in the market and frankly, finalizing on a boat genset can be mind-boggling.
Therefore, it is necessary to answer these questions/points before settling down for a compact marine generator:
1. The size of the boat and what exactly do you want to power?
2. Operating speed of the generator
3. Portability and ease of carrying
4. Fuel type, i.e., Petrol or diesel: This should be matched with your main engine
5. Fuel efficiency
6. Pollution levels
7. Ease of use and operation
8. Levels of sound and vibration generated while in use
9. Safety, reliability, and durability
10. Customer & maintenance service and warranty offered by the respective companies
To save you from all this trouble; we have compiled a list of selective and best generators, especially for marine use to help you understand the features and pros & cons of each brand.
7 Best Portable Generator for Boat
This generator comes with the trust of Honda's brand name. This newly launched model is easy to use, durable, quiet and requires low maintenance. This Honda marine generator comes with a commercial grade GXR120 engine.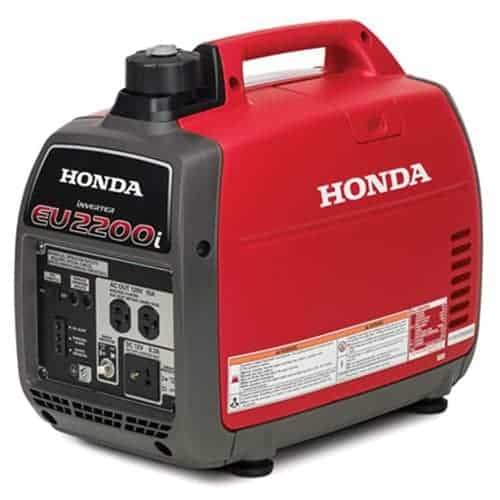 This small marine generator delivers 2200 watts, which is 10 percent more power than the EU2000i, without any increase in the weight or the cost.
Known as the 'Quiet marine generator' with 48 to 57 dBA, which is less noisy than a normal conversation.
An increased ventilation area of 2.31 square inches is offered, which results in improved inverter cooling.
Prevention is offered from stale fuel issues as the engine automatically shuts off after all the fuel in the carburetor is consumed.
Also, it has a fuel efficiency of running up to 9.6 hours on less than a gallon of fuel.
Weighing at 47 lbs makes the Honda EU2200i incredibly easy to carry and store.
To know about it, please check our detailed review of Honda EU2200i.
Pros:
Very lightweight and easy to carry
Quiet Working
Easy to use and maintain due to new fuel shut off valve
Easy to change the oil
Fuel efficient and long run time
Comes with a 3-year warranty
Cons:
There is no hour meter or fuel gauge
---
This generator is perfect to be used for household and outdoor use, and also known as good marine generators for small boats.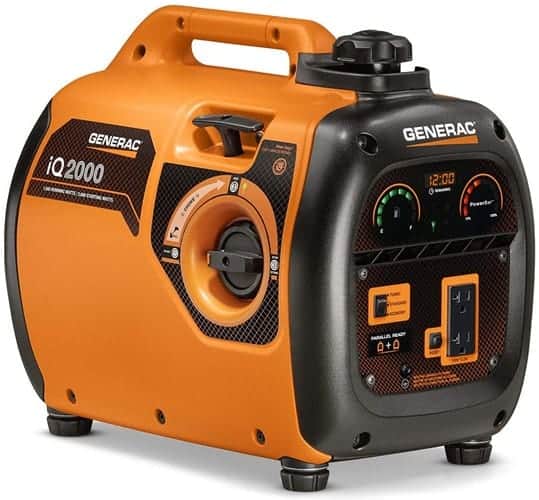 The Generac marine generators are among the few to have a friendly user display. The information is presented in an easy to understand format and is well illuminated. This includes a digital fuel meter, a wattage meter, estimated runtime, etc. It comes with alerts that tell you when your genset is overheating or overloading.
It comes with Economy, Standard and Turbo modes. The Economy mode lets you use this compact marine generator at demanding loads with minimum possible noise. Turbo is for full power, and Standard mode is for when you need to find a middle ground.
Being one of the best portable generator for boat, it has a fuel capacity of 1.06 gallons and on a 500-watt load; it will run for approximately 9 hours.
With its parallel kit, the Generac iQ2000 is easily connected to other units for you to have a longer runtime with typical load and multiplied power.
Both the machine and the engine come with a three-year warranty. The company has helpful and responsive customer service.
Pros:
It comes with a smart display design to show the runtime, fuel status, overloading or overheating
Low sound and vibration levels
Produces clean power
It comes with a smart display design to show the runtime, fuel status, overloading or overheating
Features Pulse Width Modulation that ensures voltage stability
Fuel gauge allows fuel levels to be seen from the outside
Cons:
Difficult to use at high altitude locations
---
Known as the coolest looking generator, coming from the house of Yamaha, this portable generator is power packed, quiet and lightweight. These features make it easy to use as a small generator for boats.
Weighing at just 44 pounds, it delivers the maximum output of 2000 watts. It can be connected to another generator to give you 25 AMP of power. This generator is fitted with Yamaha's sophisticated sound muffler for noise reduction.
It comes fitted with a Yamaha Smart Throttle, a load sensing control that allows better fuel efficiency and runs up to 10.5 hours at one-fourth of the rated load
Clean Power is supplied and has the longest emission engine durability ratings issued by the Environmental Protection Agency. Its gasoline helps to prevent the accumulation of stale gas by shutting off the gas.
Pros:
Very lightweight and easy to carry
It is a pure sine wave inverter
Features Pulse Width Modulation that ensures voltage stability
Has a long run time
Fuel levels can be seen from the outside with a help of fuel gauge
Cons:
Oil changing can be a bit of workout
The size of the gas tank is smaller compared to other generators.
---
WEN has been designing and distributing power tools since 1951, and the WEN 56200i is their latest offering.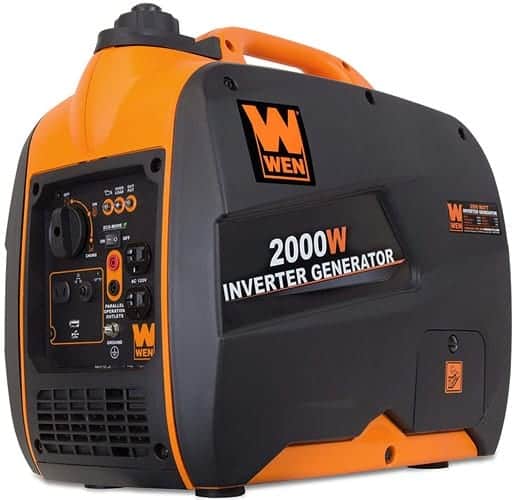 This 2,000-watt inverter generator produces clean energy without the load noise of a conventional generator. It is EPA III compliant and comes with a 79.7cc 4 stroke OHV engine. Also includes two three-prong 120 V receptacles, one 12V DC receptacle, and one 5V USB port.
Great for outdoor and indoor use and can be used as a small boat generator.
This fully equipped model comes with an Eco-Mode throttle, which allows the generator's motor to adjust its fuel consumption during plugging and unplugging. It is easy to link up this up with another generator to share wattages.
One of the significant advantages is that it produces clean power and comes with a 2-year warranty.
Pros:
Very lightweight and easy to carry
Protects sensitive electronics
Produces clean power
Affordable price
Cons:
Oil changing can be a task
---
This generator, fitted with a 7HP cast iron sleeved air cooled Engine, is powerful in the most real sense. It can be used for the indoors for powering your home needs; to the outdoors during camping and sailing. In fact, it has been voted to be among the best yacht generators.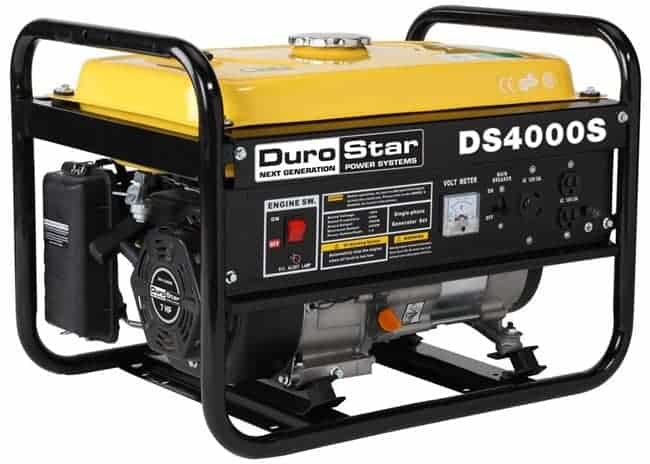 The Durostar DS4000S features a fully-loaded power panel that serves as the main control center. The center consists of the engine shutoff switch, voltmeter, and circuit breakers.
It has a full power panel with alerts for low fuel, power outlets, overheating and overloading. The automatic low oil shut off is another excellent safety feature.
The run time is around 8 hours at 50 percent maximum output.
This generator has been designed for safety. It has a recoil start that makes it easy to start and operate. The noise-reducing muffler makes it one of the quietest generators.
Pros:
Powerful 7 HP engine that accepts high loads.
It comes with a smart display design to show the runtime, fuel status, overloading or overheating.
Produces clean power.
The Recoil cord makes it extremely easy to start and operate.
Solid frame.
3-year residential limited factory warranty
Cons:
Difficult to place oil drain
Hour Meter is absent
---
This is one of the few and reputable duel fuel generators available in the market that is safe, easy to use and affordable. It runs on 9,500 peak watts on Gasoline and 8,550 watts on Propane and comes with an easy to operate push button start.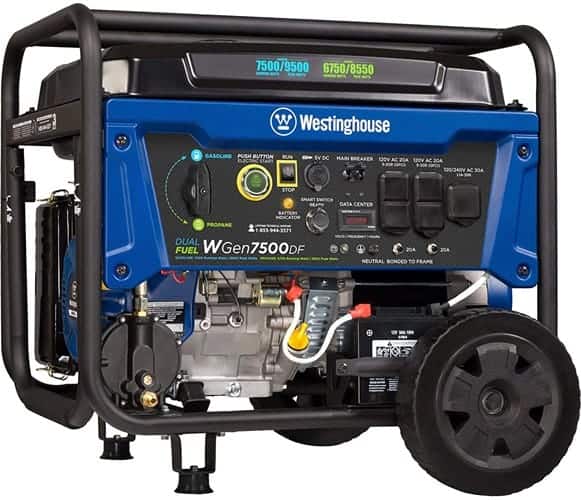 Fitted within the unit is a GFCI protection to minimize the risk of electrocution that is covered in iron sleeves making it extremely durable and weather resistant. Due to this, it has been voted as one of the best marine generators.
The engine is 420cc and runs for around 10 hours at 50 percent load. This is EPA, CARB, and CSA compliant that has an intuitive control panel and features two ground fault circuit interrupters.
Other features included are duplex outlets and one twist lock outlet.
The company provides a 3-year warranty.
Pros:
Dual fuel engine, which runs on gasoline and propane.
It comes with the ease of electric start.
It has a powerful engine, which will meet almost all of your indoor and outdoor power needs.
One of the few generators that come with a remote start.
Low maintenance generator.
Comes with handy USB outlets to plug a mobile phone like devices.
Cons:
High noise and vibration levels.
---
This is rated among the best generators for meeting smaller power needs. At a capacity of 1000 starting watts and 900 running watts, it serves well as a small marine generator.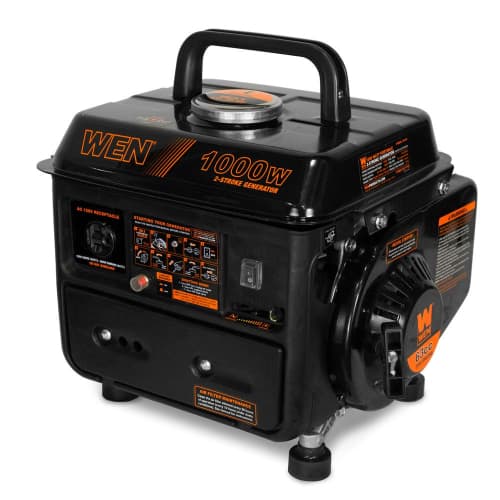 WEN is one of the top names when it comes to designing and distribution of power tools. This generator is a 2 stroke, single cylinder model and requires the oil to be mixed with gas. It is only 14 inches wide and 13.5 inches high.
Since the capacity of this generator is low, it makes it very light weight. This is perfect for home use or for outdoor use like for camping, hiking or sailing.
WEN PowerPro 56105 has 4 rubber footpads making it easy to keep stable on uneven surfaces. These footpads also help in reducing vibrations.
This generator is relatively quiet as compared to other models in this category. The noise levels are around 60 decibels when measured from 22 feet.
A significant advantage is that this is affordable and gives its users complete value for money. It gets a voltmeter to know the wattage output. Customers also get a 12-volt DC outlet along with a DC cord.
Its standard pull-start recoil cord makes it extremely easy to start and operate.
Since the engine is 2 stroke, customers need to spend less time on maintenance and oil changes.
Pros:
Perfect for small power needs
It comes with a smart display design to show the runtime, fuel status, overloading or overheating
Very lightweight and portable
The Recoil cord makes it extremely easy to start and operate
Low maintenance generator
Cons:
It requires a direct mixing of oil and gas. Unless appropriately understood, it is risky
Difficult to operate in high temperatures, direct sunlight and colder climates due to the capacity of the engine
---
Safety precautions to consider while using portable boat generators:
Using a portable inverter in your boat if not handled properly can be menacing, and thus, it is advisable to consider some safety precautions:
1. Never install the portable generators permanently on your boat.
2. Never refuel the inverter while it is on the boat. Remove it and take it away from the boat. Make sure you are at a safe distance from your boat as well as other boats.
3. Make sure you don't run the generator near doors, hatches, and windows to prevent them from filling with carbon monoxide.
---
Conclusion
We have listed the top 7 best portable generator for boat taking into account factors like desired usage, noise levels, reliability, durability, etc. The end decision needs to align with the user's specific requirements.
The investment in a generator is considerable and also has a notable impact on the user's health. Therefore, it is necessary to make a well-informed decision after substantial research.
We hope to have made your purchase decision a little easier for you.
Last update on 2023-09-25 / Affiliate links / Images from Amazon Product Advertising API