Any work done using a jig saw requires a steady hand and also a good quality saw too. To make things as easy as possible, the Bosch JS470e top handle jig saw has been designed in such a way that any cutting done with it are smooth and controlled.
The soft grip on the top handle improves comfort and your ability to guide the jig saw along the exact lines you need it to cut. Any vibration is greatly reduced through the specialized design of the Bosch JS470e, so you will be able to get the best possible results each time you use it.
All of the features included with the Bosch JS470e have been added to make the saw very accurate and easy to use. Not only is it comfortable, which will promote an accurate cutting ability, but it is also a very powerful jig saw, so cutting through different materials is made that much easier.
A closer look at the Bosch JS470e jig saw
Power of the motor
The Bosch JS470e comes with a powerful 7 amp motor which enables it to cut through a variety of materials with ease. It has a no load SMP range of 500 up to 3,100 giving you optimal control and cutting ability. This is what you need if you work a lot on heavier duty jobs, you want to have the confidence that your jig saw is going to cut consistently well all through the job, and this is what the JS470e provides.
Cutting ability
When cutting wood with the Bosch JS470e, you can cut up to 5 7/8 inches thick, which gives you the ability to work on a wide range of applications. It will also cut aluminum up to 7/8 inches thick, and mild steel up to 3/8 inches thickness.
If you need to cut bevels, then this has a 45 degree angle capacity that will enable you to cut accurately for angled pieces as well as flat. Bosch also uses a specialized circuitry in a lot of their power tools that provides a constant response rate throughout the cut. This will ensure you get the best quality cuts that are clean and consistent each time.
Ease of use
Even if you have never used a jig saw before, you will find the Bosch JS470e to be very easy to use right out of the box. There are no hidden buttons or switches, everything has been laid out in a way that makes it clear to see how to use it.
When you want to change a blade on many jig saws, you have to grab hold of the blade and physically pull it out. This is not possible if you have just been using the saw as the blade will still be very hot. But on the JS470e you can just use the blade ejection lever which will release the blade without you having to touch it.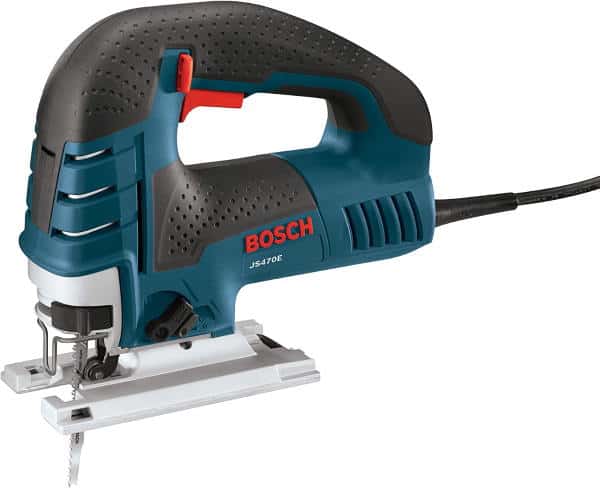 When you are cutting with a jig saw you will often get wood dust fall on your cutting line. But Bosch has thought about this also, and has a built in adjustable blower that will blow the dust off the cutting line so you can see exactly where you are going at all times.
Overall thoughts on the Bosch JS470e jig saw
This is a very good quality jig saw that is able to deliver power and accuracy, as well as ease of use. Ideal for professional use, or just for some DIY work at home, the JS470e will enable you to make a wide range of cuts. Not only is the Bosch JS470e a great jig saw, but it is also very good value for money too.
Sale
BOSCH Jig Saws - JS470E Corded Top-Handle Jigsaw - 120V Low-Vibration, 7.0-Amp Variable Speed For Smooth Cutting Up To 5-7/8" Inch on Wood, 3/8" Inch on Steel For Countertop, Woodworking , Blue
Convenient: Featuring a tool less blade change system and fast insertion with a blade ejection lever that eliminates need to touch hot saw blade
4 in 1: 4 orbital action tool settings provide different blade strokes for smooth to aggressive cuts for taking on the toughest cutting tasks
Control: Variable speed dial sets maximum speed and accelerator trigger controls operating speed; Features an ambidextrous lock on button for steadiness and user comfort
Secure: This Bosch tool includes a large, sturdy die cast foot with steel insert and on board bevel wrench; The JS470E's multidirectional blade clamp delivers superior grip of T shank blades
Accuracy: Internal precision machined plunging system and low vibration design enhances accuracy and allows for the smooth jigsaw operation in a variety of jobs
Last update on 2022-06-15 / Affiliate links / Images from Amazon Product Advertising API