The Briggs and Stratton Q6500 is a resourceful gas-powered generator. Its key selling points include the inverter and low noise levels, particularly the inverter for providing a noteworthy differentiation aspect among its competitors.
The 6500 is a representation of its surge watts i.e. 6500 Watts. It produces a running wattage of 5000 watts. Therefore, this is not a small generator in all regards. Having said that, it's necessary to take this generator for a test drive; to see whether it's worth the mettle.
To be fair, the exterior design of the Briggs and Stratton deserves some accolades. Whereas this is not an aesthetic competition, yet they have outdone themselves with the enclosed modern look. In simple terms, you won't be buying a big and repulsive-looking generator.
But that's beside the point because what's lies underneath the hood is what everyone is interested in. The test drive has culminated in this review. It's an in-depth look into the Briggs and Stratton Q6500.
Are you ready?
Let's get started!
Briggs and Stratton Q6500 Review
No products found.
Features & Performance
Wattage
With 6500 peak watts, the Briggs and Stratton Q6500 offers the most significant design from the company. The generator noise level is at 66 decibels, which is quieter than most generators. However, in practicality, the noise is still audible from short distance.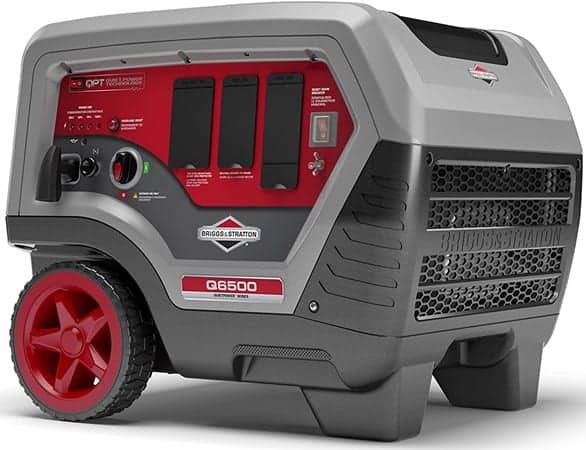 For easier reference, a 6500 starting watt is enough to start your air conditioning system, fridge, or even televisions. On the other hand, 5000 running watts will run an assortment of smaller home appliances. A similar amount of wattage will run one large appliance.
Note: It is always advised to run a portable generator according to its running watts rather than surge watts.
Engine Performance
The generator runs on a 5-gallon gas tank that will power up your home appliances for around 14 hours at a 25% load. The Briggs and Stratton Q6500 runs on a 306cc engine, (regular smaller generators run on 100 cc engine). The engine is an OHV 4-cycle engine (air-cooled).
You shouldn't worry about monitoring fuel and wattage usage. The generator comes with a fuel gauge and power meter for each function, respectively.
---
Portability And Design
The enclosing design makes the generator look like a miniature camper, including the hind wheels. That said, there's a steel frame all around that offers protection to the internal components. There is also a shell that helps in noise reduction. The design itself is compact.
Portability has also been considered with this QuietPower series generator; the handles and the wheels make it easy to move it around. The manufacturer calls it the "Telescoping Luggage-Style Handle & Wheels."
Noise levels (Quiet Power Technology)
The prominent Quiet Power Technology feature is worth mentioning that is activated by the flip of a switch. How does it work? Once activated, the noise reduction tech modifies the RPM of the engine, thus reducing the noise. The manufacturer promises a noise reduction of up to 60%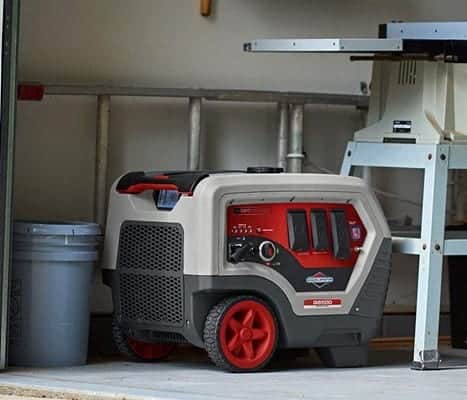 Nevertheless, you still need to place it at a distance of 8 meters from your home. Otherwise, the noise might not allow you to even hold a conversation.
Inverter
The inverter is also a praiseworthy inclusion. To understand why this is important, let's first look into how an inverter works. Typically, all generators (including those with inverters) produce high voltage alternating current (AC). However, an inverter converts it to direct current (DC) power and AC back again.
The power produced through this method is stable, clean, and reliable. Besides, it contributes to lowering noise levels in the Briggs and Stratton Q6500 generator. The inverter allows your generator to power delicate appliances such as televisions and PCs.
Fuel Efficiency
The Briggs and Stratton Q6500 operates with an auto-idle control mechanism that automatically regulates the engine runtime based on the needed load. Subsequently, this saves on fuel consumption and lowers the noise levels when it is in full gear.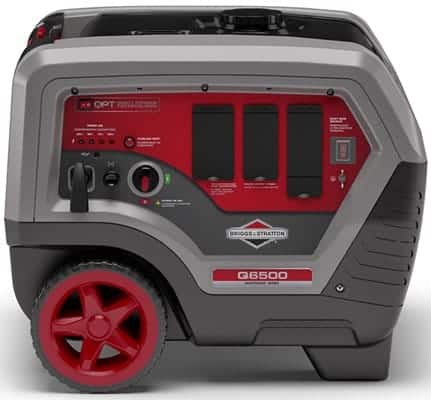 Moreover, the engine is safe from the automatic oil cutoff and voltage control system indicated through an LED display. This means your engine is protected, and there is increased safety during operation. A circuit breaker helps to protect your household appliances and the generator from power overloads.
Outlets
The good thing is that it has the right amount of outlets. It has 4x 120v/20A 3 pronged outlets suitable for your regular home appliances. Then there is a locking outlet that can switch from 120v to 240v when you need to power up larger devices.
Even though it's not RV ready, the locking outlet can be connected with an adapter to power a camping trailer or to a small boat with 2500 running watts.
Too bad though, because powering up this versatile generator requires a traditional pull cord.
---
Comparison between Briggs & Stratton Q6500 vs. Yamaha EF6300iSDE
In terms of design, the Briggs and Stratton Q6500 is better than the Yamaha EF6300ISDE. However, the Yamaha runs on 6300 starting watts and 5500 running watts. Of course, there is a considerable price difference between the two generators, with the Yamaha being on the expensive side.
At the time of writing this article, the Yamaha EF6300iSDE is 3.5x costlier than the Briggs & Stratton Q6500.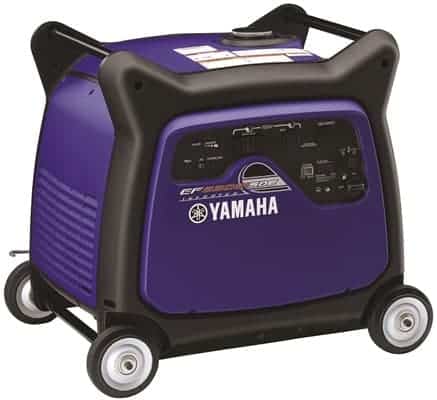 By all measures, the Yamaha has a large engine than the Briggs and Stratton. Interestingly, it produces less surge power than the Briggs and Stratton but higher running watts, which matters in most scenarios. However, one might argue that the Yamaha engine will last longer because it is working less in the long run.
Both of these are inverter generators, but there is a slight difference in fuel consumption, with the Q6500 being higher even though it has a smaller engine. The Yamaha has an electric starter, unlike the pull cord with the Briggs and Stratton. At its lowest, the Yamaha noise levels go to 58 decibels, a little lower than the Briggs and Stratton Q6500's 66 decibels.
That said, the Yamaha is heavier weighing at 200 lbs. In contrast, the Briggs and Stratton only weighs 135 lbs, making it more portable and convenient to use. The other close competitor to these two is the Honda EU7000is that is worth mentioning.
The Briggs and Stratton specifications
Startup – Pull cord
Automatic low oil shut down – Available
Size of the fuel tank – 5 gallons
Running watts – 5000 watts
Staring watts – 6500 watts
At 25% load run time – 14 hours
Warranty – 2 years limited warranty
Dimensions – 25.5″ x 21.1″ x 21.4″ (L x W x H)
Weight – 135 pounds
Outlets – 4x 120V, 20-amperes, 3-prong outlets & 2x USB & 1x 120v/240v
Pros & cons of Briggs And Stratton Q6500
Pros
It is considerably quiet for a medium-wattage generator. You can easily power up delicate appliances because of the inverter.
You can use it for an RV by using an adapter.
It has a stylish, compact design and is lightweight compared to the competition.
It comes with a two-year warranty.
Priced incredibly low compared to Yamaha EF6300iSDE and Honda EU7000is counterparts
Cons
It has a smaller fuel tank lowering the run time which is shorter than some competitors
Even though it is portable, on rough roads, it becomes difficult moving the generator
The plastic wheels may not be sufficient to take the generator's load in the long run
---
Conclusion
Even though we've not explicitly mentioned it, this generator requires a transfer switch that is linked to the twist-lock outlet. The generator has been designed as a backup generator. It is an affordable but robust piece of machine that will power your home during outages.
The inverter means you can power up some of the more delicate equipment in your home. The manufacturer boosted the confidence of the consumer through the two-year warranty. The noise levels get reasonably reduced through the 'Quiet Power Technology.'
Overall, this is a generator worth your money, especially if you compare with Yamaha or Honda generators with similar capacity.
Last update on 2023-09-09 / Affiliate links / Images from Amazon Product Advertising API