The most common generators used by homeowners and RV enthusiasts are 1500-3500 Watt ones. However, if your requirements are a bit more than the average consumer, you will definitely need a 5000 Watt generator.
While a 5000 Watt generator might be a big investment (depending on the brand you choose). It does come with the advantage and freedom of being able to power up almost anything, from ACs to water pumps and heating systems.
Do not worry if your power needs seem insane. Because in this guide, we'll show you the best 5000 Watt Generator that will suffice your needs.
Are you ready?
Let's get started!
7 Best 5000 Watt Generator
Things To Consider When Buying a 5000 Watt Generator
If you will be buying a 5000 Watt generator, ask and answer yourself a few practical questions:
Are you okay with a bit of noise?
Can you store and move a massive generator easily?
Would it be more logical to pair two smaller capacity generators?
A 5000 Watt generator is undoubtedly going to make considerably more noise than a small inverter generator. This means that you need to be okay with a bit of noise, even from a far distance.
It would be wise to look at the specifications and noise levels of individual generators to make an informed decision.
Also, remember that this thing is going to be heavy compared to smaller generators, so you better be ready for some pulling and pushing.
If you are unsure you or your family members can cope up with that, you might want to pair up two smaller inverter generators together.
Though these type of generator do come with wheels and handle to make it moving around easier.
In addition to this, you will have to make sure you have enough space to house a 5000 Watt generator.
Now let's say you got all this covered, we have the perfect range of 5000 Watt generators selected for you:
If you are looking for a safe generator that is worth its reputation, then the Champion is worth the bargain. One of the hard hitters, this one is a real champion.
Specifications: The Champion 5000 Watt generator comes with a 292cc OHV Engine that offers an output of 5000W when running and an extra boost of 6250 starting Watts.
It comes with 4x 120V outlets, which are most commonly used for Household Style appliances. Also included is a 120V/240V twist-lock outlet which can come in handy.
Not one of the quietest generators because this one creates noise levels around 74 Decibels (measured from 23 feet away). This is louder than a vacuum cleaner.
Fuel: This gasoline-powered generator comes with a fuel tank that has a capacity of 5.7 Gallons. The average runtime has been calculated to be 9 Hours @ 50% Load.
Size and Weight: The generators weigh 152.1 lbs. and measures 29 x 26 x 25 inches.
Warranty and Certifications: The Champion has one of the most extended warranties in the industry with a 3-year warranty and free lifetime support. Most customers have claimed that the manufacturer offers outstanding customer support and after-sales service.
Pros
✔ A Lightweight generator
✔ Has many Safety Features
✔ It comes with Covered Outlets, hence better outdoor use
✔ Manufacturer Offers Lifetime Support
Cons
❌ It has a Lower Run-Time than Most Other 5000 Watt generators
---
This Westinghouse WGen5500 generator is very impressive and offers a standard of durability that Westinghouse generators are known for. It is a small yet powerful generator delivering a neat 5500 Watts of pure electricity.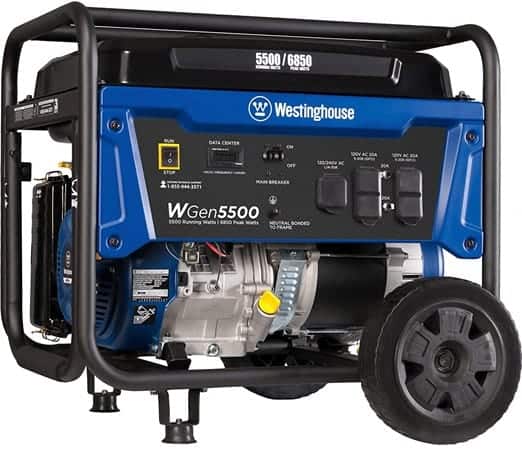 Specifications: The generator delivers 6,850 Peak Watts and 5,500 Running Watts. The engine on this one is an impressive 420cc Westinghouse OHV Engine, and there have been no major complaints so far about engine performance.
As far as power outlets are concerned, you will get two GFCI 120V Duplex Receptacles which shuts down automatically if there is a risk of shock.
It also has an L14-30R Receptacle which can be immediately connected to a transfer switch. This lets you connect to a 30A inlet box, and you're ready to run appliances.
Another nifty little feature on the display panel of the Westinghouse WGen5500 is the VFT Data Center which shows the volts, frequency, and lifetime hours related to generator use.
This is particularly handy when servicing or repairing the unit and also helps you keep an eye on how your generator consumes power.
Moreover, as an added safety feature, all outlets have rubber covers, which means you don't have to worry about using the unit outdoors.
Fuel: This 5000 Watt generator uses gasoline and gives up to 20 hour run time. It has a 6.6-gallon capacity, which means you can peacefully sleep through the night and also enjoy your daytime siesta without being worried about your generator dying down on you. It also has a low oil sensor and will auto shut down if the fuel runs out.
This generator comes with Oil, an Oil Funnel and even a Tool Kit and what's more, as per Westinghouse, you will be assembling it instantly without breaking a sweat!
Size and Weight: The unit weighs a full 170 lbs, which is lesser than other 5000 Watt generators in this list. Its size is: 27.32 x 26.18 x 26.2 inches
Warranty and Certifications: This is where the tides turn, and Westinghouse steals it with a 3-Year Warranty and Lifetime Technical Support. This is perhaps the most extended warranty you receive with the purchase of a 5000 Watt generator.
Moreover, this machine is EPA, CSA, and CARB-Compliant, thus greedily keeping the gold, silver and bronze medal to itself.
Pros
✔ User-friendly, easy to assemble and operate
✔ Great engine and efficiency
✔ Great safety features
✔ Great for RV and Food Truck
Cons
❌ Manual recoil based start means you have to pull a few threads during startup
---
Although you might be surprised how much power a portable generator could provide, this Honda portable generator can give you an entire 5000W without throwing a single tantrum. It comes with the advanced w/ iAVR technology that offers safe energy for sensitive electronics and has a host of features that can woo any Honda fan.
Specifications: At the very outset, let's rejoice over the fact that this generator is different from the rest because it is a commercial-grade generator.
What this means is that it is not a mediocre machine that is intended for home use and that people just sneak into the job site.
This is the million-dollar baby – this monster was created for heavy-duty handling work.
The 389cc advanced Honda iGX390 engine is of a commercial grade and engineered to perfection for better fuel economy. It is also a very durable machine, and reduced emissions make it all the more environmentally friendly.
This Honda 5000 Watt electric start generator, is more than enough to power your whole house in an emergency.
Also, this generator pumps out a massive boost of electricity (7,000 watts) for 10 seconds after startup. This will satisfy the most demanding electrical appliances and heavy tools.
Something that will make you happy is that the EM5000SXK3 comes with an effortless electric start and Honda has been kind enough to include the battery. The unit still has the standard recoil start for backup.
Fuel: The generator runs on gasoline and has a capacity of 6.6-gallons. While this is not a lot, it still helps fire up the engine for 14-hours at 50% load.
Several customers have used this generator and reported using it for a whole week on end during storms without interruption. The average runtime reported was 9 hours.
Size and Weight: This generator is a big boy weighing 273 pounds.
Compactly designed its dimensions are 22.3 x 13.2 x 19.8 inches
Warranty and Certifications: It comes with Honda's 36-month warranty that covers domestic and commercial use. It also confirms to EPA and CARB standards.
Pros
✔ Electric start
✔ Safe for sensitive devices
✔ Low oil automatic shut-off for engine protection
✔ Great for Commercial use/Rental
Cons
❌ Very costly compared to other 5000 Watt generators in this list
❌ Extremely heavy due to commercial-grade quality
---
Looking for a Yamaha 5000 watt generator? The Yamaha EF5500DE offers 4500 Running Watts and 5500 Starting Watts. For those who have used Yamaha products before; brand loyalty is to be followed religiously and what better way than to get this generator?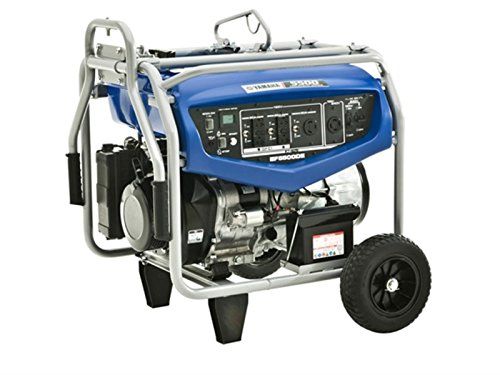 Specifications: The generator flaunts an electric starter and auto choke, and is designed to be rough like Yamaha products.
It has a full roll cage protection and a lifting eye for hosting and safety. The OHV engine on this Yamaha generator makes it a quiet 5000 watt generator that has excellent efficiency.
Fuel: The generator can run 9 hours at full load and produces lesser noise as compared to similar capacity generators. The noise produced by Yamaha EF5500 is around 74.1 dB, which is much like a vacuum cleaner.
It also has a GCFI system to reduce the risk of electric shock. At the same time, the fuel gauge provides easy monitoring of fuel levels. This also comes with an electric starter and auto choke for easy push-button starting.
The generator has four household outlets and two 120/240-volt outlets, one being a twist-locking outlet.
A fantastic thing is Yamaha has placed a voltage selector switch that allows you to isolate the required voltage. This feature produces a more accurate electrical current that's safer for sensitive appliances.
Size and Weight: The generator is, to say the least with dimensions of 31.5 x 28.4 x 29.1 in and weighs at 234 lbs.
Warranty and Certifications: Yamaha's 3-year industrial and residential warranty comes with the purchase. At the same time, you can buy an extended warranty for up to 6 years.
Pros
✔ Availability of multiple outlets
✔ Low Noise compared to other generators
✔ Voltage Selector for sensitive electronics
Cons
❌ Noise might be an issue to few people
---
This generator might be a no-name generator for many, but let's give the devil his due. This is, to be honest, an excellent effort to compete with some established brands in the market. So while Wen might not sound as classy as Honda or Yamaha, let's give it a fair chance. And, be warned in advance, don't judge a book by its cover – this generator actually TALKS to you. We'll explain that in a moment.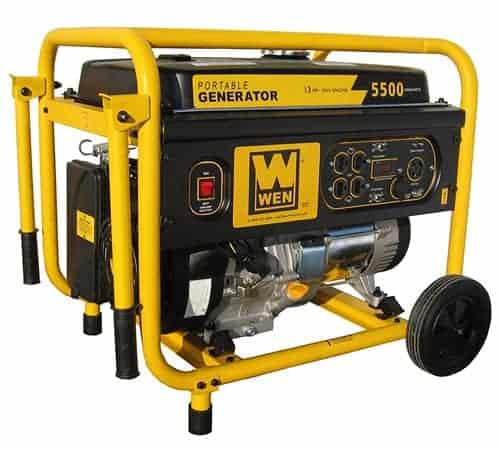 Specifications: One of the most innovative features of this generator is that it displays several CODES depending on the current status of the machine. This way the generator is actually talking to its owner. So, P would mean it needs maintenance, P25 means the generator needs an oil change, and P50 would mean oil change plus air element cleaning. In contrast, P 100 means you got a lotta work on your hands (check oil, air element, fuel, and sparkplug)!
The 389cc 13 HP OHV engine which is an EPA III 389cc engine provides 5500 surge watts and 5000 running watts. In contrast, the automatic voltage regulator helps produce cleaner power to protect your electronics.
Features four 120V 20A three-prong outlets, a twist-lock 120/240V 30A outlet (L14-30), and a cigarette-lighter-style 12V DC outlet as well as a bonus NEMA L14-30 plug.
Rejoice, for the gods of the generator world, have bestowed buyers with a wheel and handle kit.
Fuel: It has a capacity of the 6.5-gallon fuel tank and can run for 11 hours at half load.
Did we mention that the generator comes with a Low-oil shutdown feature?
Size and Weight: The dimensions of the generator are 28.5 x 22 x 21 inches and it weighs 182.4 lb. in weight.
Warranty and Certifications: The Wen 56551 backed by a 2-year warranty and the digital hour counter helps you remember your routine maintenance schedule. Talk about having a dedicated personal assistant!
Pros
✔ Availability of multiple outlets
✔ Great fuel efficiency
✔ Portable size
✔ Automatic Voltage Regulator
---
This Generac generator is one of the most popular and widely bought Generac generators. Although there has been a decline over the years, still people are using it to power their homes during hurricanes.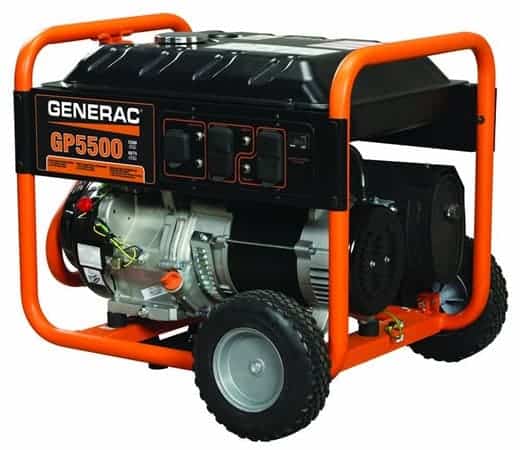 Specifications: The Generac GP5500 uses a Generac 389cc OHV engine and supplies a full 5,500 Watts of power.
It also comes with a set of locking down handles that making transporting and storage very convenient. The circuit breaker outlets are all covered for protection, and it has a low-oil level shutdown system.
It also comes with never-flat wheels that promise hassle-free portability. The only issue being it has only 120-volt outlets.
In fact, this generator is actually very well designed with a robust frame and the icing on the cake being the cradle it is placed in. A hardened steel tube cradle adds strength and durability to this generator.
Fuel: Like some leading generators in the 5000W family, it has a 7.2-gallon fuel tank. Running on gasoline; the generator provides up to 10 hours of run time at 50% load.
Size and Weight: The dimensions of the machine are 28.75 x 26.75 x 25 in, and it weighs 180 lbs.
Warranty and Certifications: Now one thing this generator has over other large generators is green emissions. It is both CSA and CARB Certified.
Personal usage is warranted for 2 years (1 year for parts and labor, 2 years for parts). Commercial usage is warranted for 1 year or 1000 hours whichever comes first.
Pros
✔ Very sturdy and well built
✔ Fewer emissions, environment-friendly
✔ Tubular frame is very strong
✔ Very large fuel tank of 7.2 gallons
Cons
❌ No 240 Volt outlets
---
The Pulsar is rightly named after one of the brightest types of stars. It is a lightweight powerhouse offering 6000 Watts of power at considerably less weight as compared to other generators in the range. As per several customers it can be operated easily and powers an average of three large appliances simultaneously without causing problems.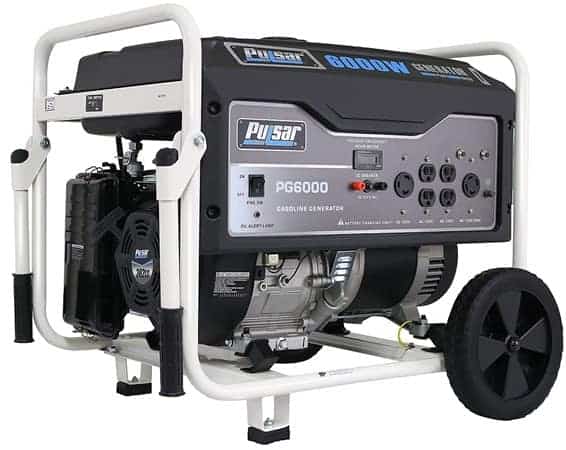 Specifications: The Pulsar 5000 Watt generator has a 303cc 10HP OHV Engine and offers 6000 Watts of power. While it does create considerable noise at 72 Decibels if you do not hate the sound of a noisy vacuum cleaner, you might not be too disturbed.
The generator comes with 4 120V outlets (Household Style Outlets, one 120V/240V twist-lock outlet, one 120V twist-lock outlet and one 12V DC output.
Fuel: The generator comes with a decent sized 6.6 Gallon Capacity Fuel Tank and offers a perfect 13.5 hour runtime @ 50% load.
Size and Weight: Lighter than other generators in this segment, 159 lbs. and dimensions at 28.0″L x 21.0″W x 22.0″H
Warranty and Certifications: Backed by a 1-Year Limited Warranty and an extended warranty that can be purchased, it is mainly meant for personal use. The commercial warranty only extends up to 90 Days
Pros
✔ Lightweight compared to most 5000 Watt Generators
✔ Can run for the whole day at a stretch
✔ Never flat wheels
✔ Very large fuel tank of 7.2 gallons
Cons
❌ Outlets are exposed making it a problem in rainy weather
---
Frequently Asked Questions about 5000 Watt Generator
Q. What can I run with a 5000 watt generator?
A. It is a good idea first to consider what appliances will a 5000 watt generator run, before buying one.
To give you a fair idea, onboard an RV you can seamlessly run a 15000 BTU AC. Besides that, it will run other heavy electrical appliances like saws, small motors, electric drills, etc.
Q. How to start a manual recoil generator with the least effort?
A. If you've owned a generator before this, particularly an inverter generator that starts on an electric start button. It might seem very cumbersome to operate a manual re-coil generator.
If you want to minimize effort, the trick is to keep the generator in great shape and ensure it is well-tuned. That way, ever time by the third pull, you should have the generator starting without any issues.
Assuming that you have already used a fuel stabilizer after storage. First, give the starting cord a gentle pull until you feel some force, then pull again with all your might. By the second or third time, this should get your engine started even if had been lying around for a while.
Q. Is it essential to ground a generator? How do I do that?
A. First, you need to check if your generator needs to be grounded. This can be determined easily by reading the booklet or by checking beneath the generator.
If it is required, you need to connect the generator to a copper wire that is connected to a grounding rod. You need to place a 4-foot grounding rod roughly 8 feet in the ground and then connect it to a stripped copper grounding wire.
Finally, locate the grounding bolt on your generator and connect the other end of the wire to it. This way any electric shock is minimized by transferring such electric charge safely to the ground.
Q. Should I try to change parts on my generator like trying to replace the manual recoil started with an electric drill-based start switch?
A. Actually, this is a pretty lousy idea despite how exciting and adventurous it might sound.
The reason that the manufacturer has not ventured into installing an electric push-button start and instead stuck with the old fashion recoil is that this type of engine works best with a recoil starter.
Attaching a drill to it can result in severe damage to the machine and the person operating it as well. It is never a good option.
Q. Can I use any type of gasoline?
A. No. Try to use regular unleaded gasoline with your generators and a higher octane rating.
Try to always use gas with an octane rating of 87 and higher. Also, using ethanol is not a good idea, and no more than 10% of ethanol is allowable. However, something in emergency situations people have had to use ethanol.
Be careful to check whether the fuel you are using specifies what type of engine it is meant for as you cannot use fuel or oil meant for 2 cycle engines in most 5000 Watt generator.
Q. What things can void the warranty of a 5000 Watt generator?
A. The following actions can void the warranty or lead to damages that in turn will void the warranty of your generator:
• Using fuel conversion kits with your generator to use fuel other than gasoline
• Improper maintenance
• Improper storage
• Using cheap gas
• Turning the generator on and off while gadgets are still connected and turned on
• Improper grounding
• Converting a pull start to electric start
• Not re-filling the fuel and running on deficient levels of gasoline
It is clear from our discussion that a 5000 Watt generator is a lot different from smaller generators and must be used with extreme care. Not only does a 5000 Watt generator require better maintenance, but there are also some things you can do with smaller inverter generators that are big No-No with these machines.
However, you have nothing to worry as long as you follow the instructions and remain careful. Remember, with a 5000W monster you can enjoy enormous power for days on end which smaller generators cannot offer.
Generally, it is seen that the actual capacity of the fuel tank is more than that mentioned by the manufacturer. Why?
Actually, these calculations are provided keeping in mind room needed for thermal expansion. When the temperature rises, the extra space also gets filled up with gas because it heats up and expands. So don't be worried if you find variations in tank capacity from the one mentioned on papers.
Q. Will I need any additional accessories with my generator?
A. You might need to buy the primary wire that connects your generator to the RV / trailer, and for home use, you need a transfer, switch, inlet box, grounding wire and rod, etc.
You will also need to but extensions cords of the right specifications to connect to individual heavy appliances and machines. Check the product catalog to see if your generator comes with or without these.
Also, if you are going to use the generator outdoors, you will have to protect against rain and other weather conditions. For this, a waterproof cover comes handy, and in case of snow, it might be a thermally insulated cover.
Check to see if the power outlets on your generator are covered or exposed to know how important it is to cover it. For some generators that heat up quickly, you will need a canopy that allows for proper ventilation while keeping the generator dry.
Q. Are there any precautions I need to take when turning the generator ON or OFF?
A. Definitely, and this factor is essential to determining how long your generator will last and the efficiency it will work with. Follow the following instructions carefully to ensure that your appliances and generator stay safe:
1. Always switch OFF and unplug all appliances before turning a generator ON.
2. Once the generator is up and running, Switch ON your plugged-in devices
3. Make sure you do not plug in more appliances than the Wattage of the transformer
4. Before you turn OFF the generator, switch OFF all appliances and disconnect them
By following these simple instructions, you can prevent a power surge or short circuit and keep your devices and generator safe. Also, remember that if your generator breaks down because of improper usage, you might not be able to claim warranty.
Q. What do we mean by Breaking Into a Generator?
A. Depending on which generator you are using, the ON button will most probably be a switch that you need to press. Usually, all you need to do is turn the choke on, make sure the fuel tank vent is open, and turn the engine switch to ON.
Once you have already grounded your generator and performed the "breaking-in" ritual and connected it to the RV or home. All you need to do is firmly press the ON button and then release gradually. Within a few seconds, you will have powered up your appliances.
Also, make sure you have enough fuel inside the generator at all times. Staring it on abnormally low oil levels is also bad for generator health.
Q. What does it mean when a generator loses its magnetism? How do I fix it?
A. Sometimes when the generator fails to start, it might be because it has lost its magnetic effect, which enables it to start when you press the electric start button.
This problem is mostly faced in the generators that have an ON-OFF switch as opposed to the recoil based startup. In case you encounter this problem, you can look up online tutorials on how to get the magnetism back. One common technique is to use a drill and wind it backwards.
Whatever you do, ensure safety, and it is recommended you call a professional mechanic for help and even better call the dealer/ manufacturer's helpline before doing anything.
Q. What is a GFI? Why should I buy a generator with this feature?
A. A Ground Fault Interrupter (GFI) is a system that can sense a leak to ground and automatically cuts off power for maintaining safety. This helps to protect your appliances as well as prevent injuries that can result from electric shock.
Q. What does CARB Compliant mean?
A. CARB stands for the California Air Resources Board, and CARB-compliant means in compliance with CARB regulations. To maintain the air quality in the state, all electrical appliances that run on fuel and produce emissions need to be tested for their compliance with these standards.
While many generators are CARB compliant, especially inverter generators, some are not. Remember that if you intend to have your product delivered to California, you need to double-check if it is CARB compliant.
Q. What does the CSA label mean?
A. Like the CARB compliant label, the CSA label, which stands for Canadian Standards Association, ensures product testing and certification services for electrical, mechanical, and plumbing equipment.
It is widely recognized in North America for safety and environment-friendly standards. If you live in the region, prefer generators with this label.
Conclusion
Naturally, while the prospects of a 5000 Watt generator seem limitless, you must always remember that it is no magical genie.
The best suited 5000-watt generator for you is the one that best suits your needs and energy requirements. Particularly if you need to equip your RV with a robust generator, you need to ensure you buy the right thing.
Also, with so many options out there (gasoline, propane, dual-fuel), you need to make sure you understand fuel efficiency and rising gas prices.
In our estimate, the Westinghouse WGen5500 seems to be the best bet if we consider overall specs. Whereas, Generac's Centurion is a generator you might want to avoid due to negative customer reviews over time.
Also find the noise levels, after all, you don't want to ruin your picnic or scare away the birds and bunnies on your next RV adventure.
Last update on 2022-07-27 / Affiliate links / Images from Amazon Product Advertising API