The Yamaha EF2000iS is one of the best portable inverter generators out there. And in fact, we recommend this as the best. Reviewers share the same sentiments with us. It's maximum power output is 2000 Watt.
With a compact size and a weight of 44lbs, the portable generator can be carried along easily wherever you need.
It really produces clean power which is equivalent to your house mains output. At 1/4 rated load this Yamaha EF2000iS generator produces an incredible low 51.5 db noise levels. This means you can have a conversation around one without realizing that it is even running.
It is very fuel efficient. All these benefits make it ideal for camping, boating, fishing and tailgating.
PROS
Very quiet
Fuel gage installed
Fuel efficient
Clean power
Well built
Fuel cutoff switch
3 year warranty
CONS
It ships with no oil
Oil level checking is inconvenient
Oil changing is daunting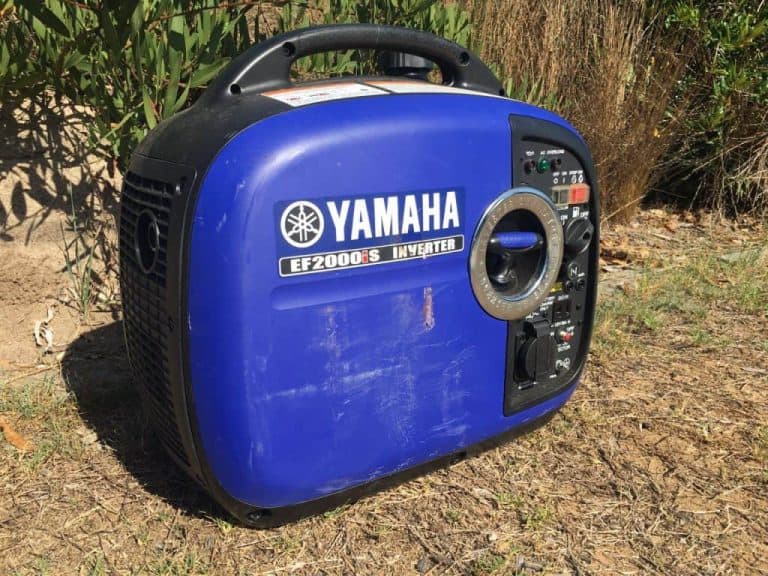 TIPS
These are some of the general tips you need consider when you buy this genset;
Get a fuel stabilizer
Periodically start the machine if it is going to be unused for a very long time
Tie units down when in transport
Limitations of the genset; what it can and cannot run.
To deter thieves, buy a cable lock
Always test your newly bought generator out before there is an emergency or the actual time of using. In that you will be sure the machine works. If anything than that you can replace it before the warranty expires.
POWER
At 1600 Watts rated power this Yamaha EF2000iS generator can power most of your essential and common appliances in the household. Theses are Refrigerator, Microwave Oven, Lights, Portable fan, TV/DVD, Hair Dryer, Computer, Coffee Maker, Blender.
Some reviewers state that it can power a 6200 BTU air conditioner. You always have to know the power requirements of the appliances that needs to be powered compared to the output power of the generator. This is to make sure you don't overload the generator. For an RV of 15k A/C, one 2000 watt cannot power it. You need to hookup two together.
RELIABILITY AND DURABILITY
It is a well-engineered and built generator. The engine has a steel camshaft and valve train components, cast iron cylinder lining. All this is to ensure that efficiency, reliability and the durability of the generator.
Some customers complain about the inability to add an auxiliary tank for an extended run time. This they say can disturb your sleep pattern in the night when you need a refill. But all in all, this is a pretty small inconvenience.
The oil Watch Warning System on the Yamaha EF2000iS prevents engine damage caused by low oi land provides peace of mind. To prevent damage caused by overload, this generator is provided with electrical overload breaker.
OPERATIONS
Due to the Smart Throttle technology which varies engine speed based on load, this generator is very good on fuel economy. At 1/4 rated load and with a full tank you are suppose to get 10.5 hours of continuous operation.
Auto decompression is a nice feature of this generator that reduces compression for easier starting of the machine.
A lot of reviewers confirm this that, the engine starts by no more that two pulls and it is very easy to pull too.
Controls are centralized for easier access too. Portability is a big advantage for this generator, as it comes with comfortable grip handle. It is also light weight and very compactly built.
NOISE LEVELS
Inverters as generally quiet machines and this no different. It is installed with a super-quiet muffler with USFS-approved spark arrestor. It produces only 51.5dbA at 1/4 and eliminates errant sparks.
YAMAHA EF2200iS Inverter Generator, 2200 Watts, Blue
Powerful Yamaha 79cc Engine - Provides high power output.
Yamaha Quiet Technology - Outfitted with Yamaha sophisticated muffler for quiet operation.
Standard RV Outlet - No more searching for the right adapter. DC Outlet - Flexibility to charge and use devices.
Illuminated Multi-Function LED Display - See generator status at a glance both day and night.
Smart Dial Knob - Simple and easy start-up. Smart Throttle - Automatic load sensing adjusts power to device needs.
CONCLUSION
This Yamaha EF2000iS generator is certainly not the most powerful inverter generator but it is ideal for all the essential electrical equipment in your household. Besides it comes with the cleanest power and better fuel economy you can think off. It is light and compact for easy transportation. It is very durable and reliable. At it's current price, the generator is not cheap but we promise you that, it is the best generator in it's class money can buy.
Last update on 2023-11-26 / Affiliate links / Images from Amazon Product Advertising API