If you're in the market looking for an inverter generator that offers an excellent balance between portability, performance and pricing, then Westinghouse iGen2500 should be the ideal choice.
It's a 2500W inverter generator manufactured by Westinghouse that comes in a compact casing and ideal for easy handling.
It runs in direct competition with inverter generators from brands like Honda and Yamaha. Hence in this Westinghouse iGen2500 Review, we'll see how it compares against them and a slew of other generators scattered within a similar price.
Moreover, we'll also take a look at its specifications, features, functionality and usability in this short and sweet review.
Are you ready?
Let's get started!
Westinghouse iGen2500 Review
No products found.
---
First Impression & Design
At first look, the Westinghouse iGen2500 looks like a blue-colored jerrycan that seems very portable and easy to handle.
Since it's a 2500W inverter generator, you really wouldn't need much effort carrying it around, and its weight of 48 lbs instils that confidence.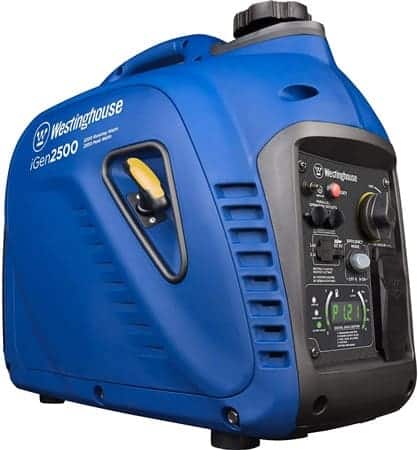 On initial glance, it's hard to miss the blue-colored casing that houses all the electronic and mechanical components within this generator.
It has an easy-to-carry suitcase-style handle on the top, which makes it very efficient to carry this pint-sized inverter generator. The front of the handle features a fuel cap to add gas into the generator
The left panel on Westinghouse iGen2500 houses a recoil starter, which is easy to notice due to its yellow-colored top. Additionally, the right panel, also known as engine service panel, can be used to access the engine and fill oil into this small generator.
However, the front-panel is where all the magic happens in the Westinghouse iGen2500 inverter generator.
The front-panel, also known as the control-panel hosts a myriad of switches, knobs and outlets to make your efforts worthwhile. Don't get confused though, as I'll talk what they actually are.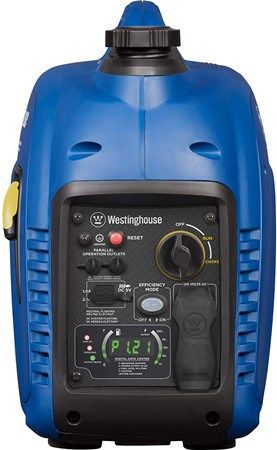 At first, it features an Engine Switch to turn the generator ON, OFF and CHOKE as per your requirements.
Below that, there are 2x 120V AC outlets that can be used power multiple electronic devices and appliances as per your needs.
A couple of USB outlets are included as well to power sensitive electronics like mobiles, tablets, cameras and so on.
Both the 120V AC outlets and USB outlets are hidden behind rubber caps to prevent them from dust, water and rust.
An Efficiency Mode button is present, which enables the engine to run at a lower RPM to save additional fuel. It is useful when powering just a couple of low-powered devices/appliances.
---
Features & Specifications
As mentioned earlier, the Westinghouse iGen2500 being a compact inverter generator, offers myriad functions and features that makes it ideal to be used as a home, camping or tailgating generator.
Firstly, it comes with a 98cc air-cooled 4-stroke OHV engine that generates 3.4HP. Secondly, the Westinghouse iGen2500 Portable Inverter Generator can produce 2500W at peak and 2200W running watts.
Since it's a small engine, it operates at ~52 dB @ 25%. The generator will get louder as the load increases.
Note: This generator's noise can vary depending on the load. If near the generator, it will always seem louder. Considering that inverter generators are recommended to be kept at least 20-feet away, the noise you perceive will reduce considerably.
It comes with a 1.0-gallon capacity fuel tank that supports unleaded gasoline with less than 10% ethanol content. Hence make sure to use the same quality or better fuel; otherwise, it might damage the engine and alternatively emit high levels of Carbon Monoxide in the environment.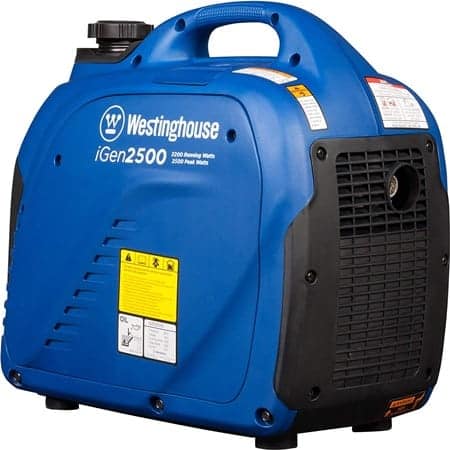 To reduce unwanted toxic gas and improve the engine's life; it's recommended to use ethanol-free gas in this generator.
The 1.0-gallon fuel tank is enough to run the Westinghouse iGen2500 for up to 10 hours @ 25% load, and at 50% load, it can offer run time up to 8 hours.
Additionally, the Efficiency Mode button can be used to improve run time even more.
Note: Run time and fuel usage are indicative and may vary upon different factors like fuel type, temperature, load, altitude and age of the unit.
Even though it misses out on electric start, the recoil starter is more than enough to start this small engine. If the generator is maintained carefully, you'll be able to get it started by the 3rd pull every time.
Additionally, it has an Information Display screen towards the base of front-panel, which Westinghouse called as LED Data Center.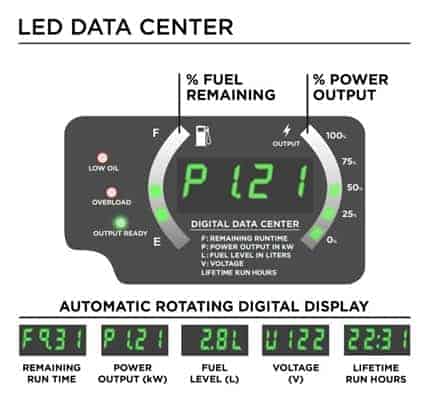 This is a beneficial feature and shows information like:
Remaining Run Time
Power Output (in kW)
Fuel Indicator (in Litres)
Voltage
The display screen makes it very easy for new consumers to use this generator efficiently. And I hope other brands too take notice and add a digital information readout like this one.
Additionally, it is an EPA, USFS and CARB complaint generator, which means it can be used anywhere in the USA, including California and also in Canada.
Moreover, Westinghouse offers a 3-year warranty for regular usage and a 1-year warranty for commercial usage.
Now that we've gone over the Design and Feature aspect of Westinghouse iGen2500 let's move on to the Performance section.
Shall we?
---
Performance
To start the generator; it's essential to put the Engine Switch on CHOKE and pull the recoil starter. Once the engine is started, you can then turn the Engine Switch to ON.
Being a 2500W portable inverter generator, do not mistake it to be under-powered. Because it can run a couple of bigger appliances like refrigerators, microwave oven, dishwasher, furnace, vacuum cleaner, leaf blower and so on simultaneously.
With the help of magicians from Westinghouse, it can produce Total Harmonic Distortion (THD) of less than 3%. This makes it ideal for powering sensitive electronics like TV, Laptop, Computer, tablets and so on.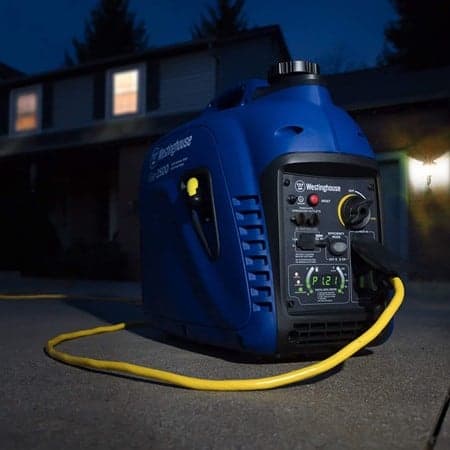 With the addition of 1A and 2.1A USB outlets, small devices can be charged via it.
Even being so small; you can use it to power your house as a backup generator and run multiple small and big electronic equipment and appliances simultaneously along with light bulbs and ceiling fans.
Furthermore, you can also take it camping or for tailgating parties. Since it's a very fuel-efficient inverter generator, you won't need to carry extra fuel with you to power it.
Fun Fact: This generator is parallel capable. Hence if you need additional power, you can always connect 2 Westinghouse iGen2500 inverter generator in parallel and enjoy double the power.
---
Westinghouse iGen2500 vs Honda EU2200i: Brief Comparison
Both the generators are similar in size and weight.
However, the Westinghouse iGen2500 costs almost half of what Honda EU2200i does, yet still offering higher run time because of its slightly larger fuel tank.
Honda EU2200i has a fuel of 0.95 gallons, which allows it run for around 8 hours @ 25% load. Whereas, Westinghouse iGen2500 offers 10 hours of run time @ 25% load.
This is mostly due to the slightly smaller engine and marginally larger fuel tank, yet still able to power similar types of equipment.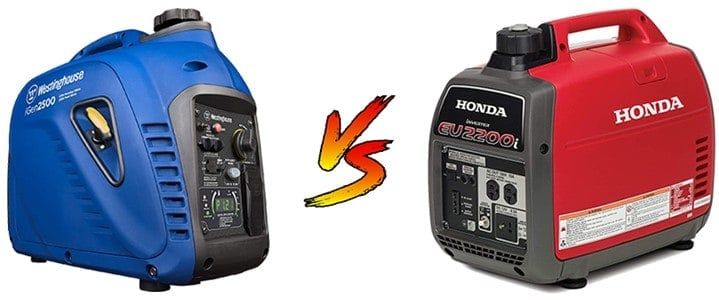 Apart from this, the Westinghouse also features an Information Readout screen that displays remaining run time, output power, fuel gauge and voltage. At the same time, something like this is absent in Honda EU2200i.
Likewise, the part where Honda wins, is in the sound department. At 25% load, Honda EU2200i creates 48 dB noise, and the iGen2500 makes 52 dB. The sound later increases when the load gets higher; however, comparatively, Honda is less noisy.
There's also a fuel cut-off switch in Honda, which helps the engine burn stale fuel in the carburetor.
Both offer similar warranty period, features and performance. Hence it's up to you on which to choose, and you wouldn't be wrong choosing either one.
To know more about the Honda EU2200i, do read its full review here.
Pros & Cons of Westinghouse iGen2500
Pros
Portable Design and Form Factor
Fuel efficient inverter generator that offers longer run time
Can be used to power couple of larger appliance simultaneously
Comes with information screen and display important information
Offers USB output
Total Harmonic distortion of less than 3%
Cons
Loud at high loads
Electric start option is absent
Frequently Asked Questions
Q. Why do I need to put the Engine Switch on Choke before starting the generator?
A. An engine runs on a mixture of fuel and air, which is set by the carburetor within the engine. However, when set on CHOKE, more fuel is released into the engine.
This, in turn, ignites the fuel quicker and makes sure the engine gets started promptly (mostly with 1 pull).
Once the engine is started, you can move the Engine Switch to ON, which makes sure the earlier combination of fuel and air is restored.
To know the basics of how an carburetor engine work, check this link.
Q. Is the Westinghouse iGen2500 available in other colors?
A. Other than Blue, the iGen2500 is also available in Camo color option. Additionally, there's a Westinghouse iPro2500 which is available in Gray color.
Q. What is the Power Output?
A. It delivers 2500W at peak and is rated at 2200W.
Q. Does the Westinghouse iGen2500 come with an electric start?
A. No! Electric start option is absent, yet can be started via a manual recoil starter.
---
Conclusion
Without a doubt, the Westinghouse iGen2500 portable inverter generator steals the show when it comes to price, performance and portability.
Costing half of what the Honda EU2200i does, the iGen2500 offers a similar performance, functionality and features compared to it.
All in all, it's the best 2500W portable inverter generator you can buy for the price.
Last update on 2023-11-23 / Affiliate links / Images from Amazon Product Advertising API