Ridgid is a well-trusted brand with over 50 years of experience. But how does their Ridgid R4513 portable table saw measure up?
The Ridgid R4513 portable table saw operates via a 15 Amp motor that supports heavy duty usage and offers 4500 RPM. Capable of handling large-scale projects, the 10-inch saw has a maximum cut capacity of 2-1/4 inches at 45° and 3-1/2 inches at 90°.
In regards to portability, the table saw comes with a foldable stand that is easy to pack-down and move from job to job. With the product introduction out of the way, let's dive into this Ridgid R4513 review.
Specifications
Assembled Depth: 30.31 inches
Assembled Height: 17.32 inches
Assembled Width: 41.81 inches
Product Weight: 95lbs
Blade Diameter: 10 inches
Maximum Cut Depth @ 90 Deg. 3.5 inches
Maximum Cut Depth @ 45 Deg. 2.25 inches
Amperage (amps): 15
Blade Location: Centered
Blade guard system: Yes
Cord Length: 6ft
Dust Collection Method: 2 in. Dust Port
Maximum Speed: 4400 RPM
No Tool Blade Change: No
Rip Capacity – Left: 12 inches
Rip Capacity – Right: 25 inches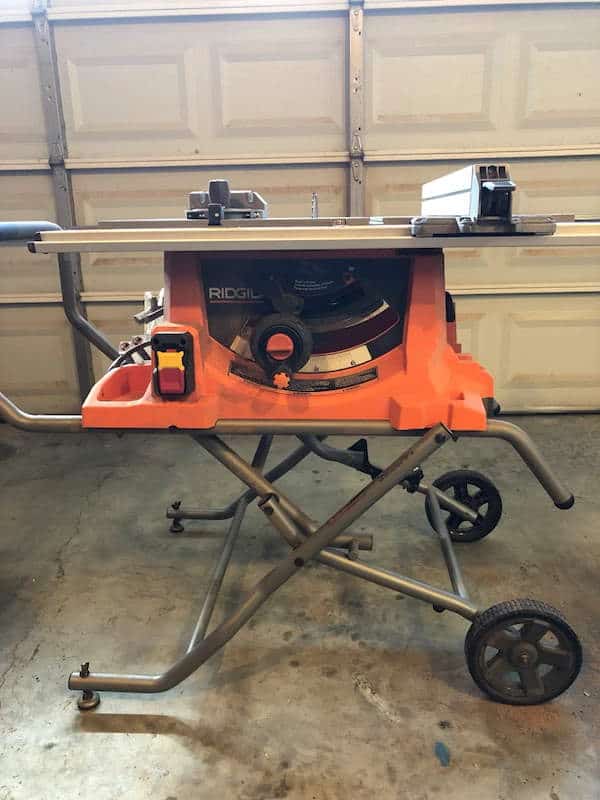 Pros
Ridgid offers a free online service facility to all customers
The surface allows for writing markings
Easy fence adjustment
comfortable wheel design allows for one-hand operation
Accessories storage space
Effective dust collection port
Cons
No dado throat plate included
Not the smoothest starts
Who is the Ridgid R4513 for?
The Ridgid R4513 Portable Table Saw is ideal for both hobbyist and professionals alike. In fact, the unit is suitable for commercial use, whether that's small-scale and or large operations.
Ridgid R4513 features
Fence and Miter – The Ridgid R4513 has a telescopic fence extends by approx 10-1/2 " on the right of the blade – this allows users to cut full size 4′ x 8′ sheet materials. The rail of the fence is fitted with extendable tape that means you can continue to measure your cuts off of the rail when it's extended. The fence moves easily, yet locks down securely and squarely to the blade. Furthermore, you can rely on the miter gauge's accuracy, which runs well in the T style miter track.
Safety – The Ridgid R4513 comes with a few standard safety mechanisms – a blade guard, riving knife, and anti-kickback pawls. What's great is that these mechanisms can be added and removed with ease.
Size – The R4513 is one of the heaviest and biggest portable table saws on the market. It weighs in at 95 lbs and has a cast-aluminium table that measures 30.25″ x 21". With such a heavy machine, it's essential to have a solid stand. Fortunately, Ridgid have more than delivered. In fact, it goes from transport mode to assembled mode with a simple press of the foot lever.
Blades – The R4513 comes with 36-tooth ATB carbide tipped blade. It's a great blade, although you may want to purchase extra blades that are better suited to your specific type of woodwork job. Users can change the blade by using the two supplied wrenches.
You may be wondering whether the Ridgid R4513 has the ability to cut dado's – The answer is yes! In fact, the unit can take 6" stacked dado set with a max width of 3/4″. To do this you will need to use the optional extra throat plate.
A special shoutout goes to the blade adjustment knob – This one dial controls both the height and angle of the blade.
Conclusion on the Ridgid R4513 Portable Table Saw
The Ridgid R4513 portable table saw allows for accuracy, clean cuts, and is easy to use. Getting a smooth start is a little difficult from this unit, but overall the positives outweigh the few negatives.
Not quite what you are looking for, well check out our other reviews on Table Saws.
Last update on 2023-09-11 / Affiliate links / Images from Amazon Product Advertising API