With over 70 full-years of experience, the German-made Metabo has made its mark in the power tool industry.
Especially in the angle grinding community and with our partner sited Plasma Cutter Pro, everyone knows that Metabo always produces the best, top-notch angle-grinder.
This particular Metabo Angle Grinder, for example. It has everything you'd want from an angle grinder, full of features that helps create the best grinding experience for you.
The Metabo Angle Grinder grinds a metal without ever slowing down. The speed & ferocity of this machine will actually scare you. Once this machine grabs onto something, it'll tear it down so quickly and efficiently you'd be surprised.
No other angle grinder can grind down a metal as efficient as a Metabo. You have to try it for yourself. Prepare to be shocked by a welding experience like you've never had before!
Check out the Metabo Angle Grinder W9-115's full range of features.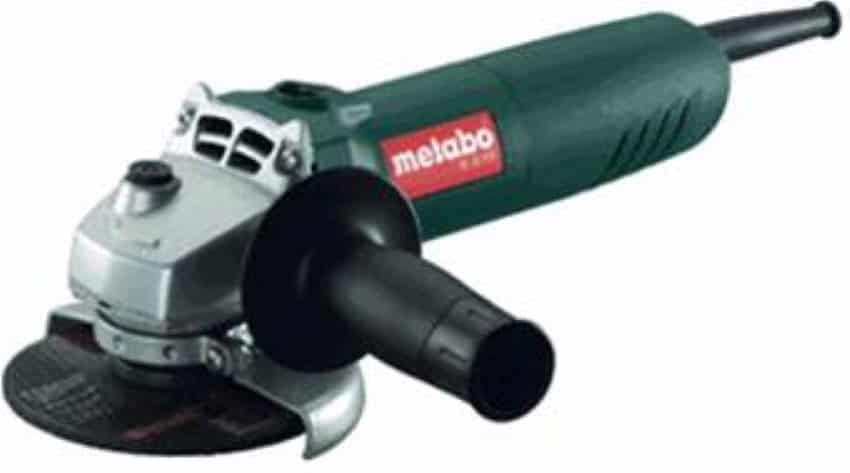 Key Features
German made equipment, where Quality Control is as strict as it gets
Solid, top-notch built quality of internal material – able to withstand Heat up to 200 degree Celcius
Extremely small handle circumference, providing a fatigue-free grinding experience – free from hand cramps
Small handle circumference will also provide perfect ergonomics for when you're grinding any kind of complex-shaped objects
Metabo Marathon Motor, cutting-edge motor technology that allows 50% more torque & 20% higher overload capacity for more efficient work & extreme durability
M-Quick System is a one-touch button that lets you change discs instantly without hassle
Metabo S-Automatic Safety Clutch, a built in safety mechanics for when your disc hits an unexpectedly rough surface – providing maximum control for you
Tool-free adjustable guard in 7 different position, very simple & quick – but also twist-proof and extremely sturdy
Specs & Technical Details
Item model number: W9115
Item Weight: 6 pounds
Product Dimensions: 11.9 x 2.9 x 12 inches
Origin: Germany
Size: 4-1/2 "
Power Source: corded-electric
Voltage: 120 volts
Wattage: 900 watts
No-load speed: 10500 /min
Torque: 2.5 Nm / 22 in-lbs
Cable length: 4 m / 13 ft

German-made quality will ensure that your product will be tested beforehand to make sure that everything is on point

Heat-resistant internal material, so you can grind away without worrying about burnt motor

Free from hand cramps, because of the smart small circumference design allowing you to grind for hours without feeling tired

Perfect ergonomics for agile maneuvers, making you able to grind complex-shaped metal with ease

Cutting-edge motor technology, delivers higher torque for more efficient grinding & extremely durable motor – able to last a lifetime!

Hassle-free disc changing, with just a touch of a button – you'll be able to change disc instantly

Built in safety system – providing maximum safety for when you're grinding rough metal

Adjustable guard – completely tool-free, with just a touch of a button you can adjust the guard to your match your grinding needs

It's corded. Understandable, since any internal batteries cannot provide enough power for this thirsty machine. The horsepower that's required to amp up this machine is tremenduous!
Conclusion on the Metabo Angle Grinder W9-115
Metabo makes a LOT of power tools. All kinds of stuff. And the things is, they always make stuff EXCELLENTLY. This is what differentiates a Metabo from everyone else. It's also why your money's in a good place when you decide to buy a Metabo.
Whether you're a weekend welder or an ironwelder who welds 6 to 7 days a week, Metabo Angle Grinder is the perfect machine to accompany your grinding experience.
If you're sick of buying cheap grinders that burns up in a month, and prefer a machine that lasts a lifetime and delivers everytime you use it, pick this excellent Metabo W9-115 Angle grinder. It won't disappoint!
Power. Longevity. And smoothness of grinding without ever slowing your motor-disc.
For an outstanding grinding experience like you've never had before. Buy this Angle grinder and see for yourself what this machine is capable of.
Metabo W 9-115 Quick 8.5 Amp 10, 500 Rpm Angle Grinder with Lock-On Sliding Switch, 4-1/2"
Metabo LongLife motor with up to 50% more torque for quicker material removal, up to 20% higher overload capacity and 30% more protection against dust
Suitable for AC/DC operation
Metabo S-Automatic safety slip clutch helps the user to maintain control If the accessory jams reducing the likelihood of kickback
Metabo quick system: The fastest tool-free disc change system at the touch of a button
Tool-free adjustable guard with 7 locking positions
Last update on 2023-09-12 / Affiliate links / Images from Amazon Product Advertising API