If you're in a situation where you have to choose between a cut-off tool or an angle grinder, then what you have to do is to ask yourself a straightforward question: what size is the metal you're going to cut? And how spacious is the space in which you'll do the cutting? Cut off tool vs angle grinder: what should you get?
Cut off Tools
The cut-off tool is a blade that is used with one hand, which is small and when mounted is perpendicular relative to the drive shaft. They have light motors that are only around 1hp, and they can be either corded, cordless, or pneumatic.
It is evident that they are lightweight, and they can efficiently be utilized by just one hand. Thus, they are well-suited for light jobs and maneuvering around tight areas where big tools can't be used. Moreover, they are suitable for things that are more or less flat.
If you have the cash to burn, then you totally can do that to get the best product on the market. But if you don't, you won't have to spend a lot to get a decent one that does the job efficiently, as even the blades are not expensive.
Recommended Cut off Tool:
Genesis GCOT335 3.5-Amp 3-In. High-Speed Cutoff Tool
Cuts through straps, hangers, exhaust systems, sheet metal, pipes and more an essential auto-body repair tool
Powerful 3.5-amp motor
No-load speed: 24,000 RPM
Uses standard 3-in. cutoff discs
Max cutting depth: 1 in.
---
Angle Grinders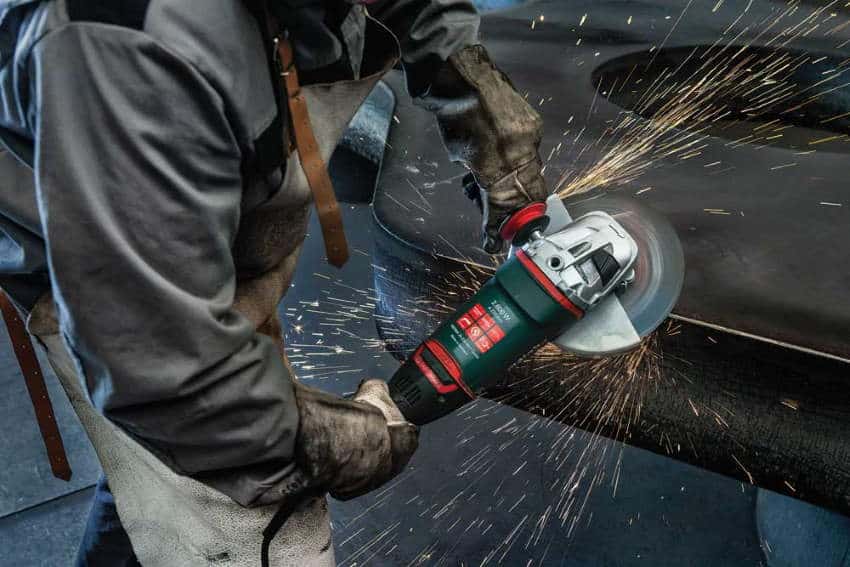 An angle grinder is the more suitable alternative if you need a big job. Moreover, this tool is versatile, which means that you can use it with a variety of different heads to enable various functions like sharpening and grinding. The head of an angle grinder is at an angle relative to the drive shaft, contrary to the previous mention.
They are a tad more potent with motors that have power between three and seven horsepower. Additionally, they have a much bigger size, and they can even cut masonry.
You have to use both hands when using them since they are so hard to control. They also necessitate some space courtesy of their larger size. You can still cut more closely even with the angled head, and the firm grip will help you in having a more precise cut.
The best advantage is the versatility it offers since you can change the attachment for numerous different uses. But this, in addition to the power, will undoubtedly bolster the price but it is a good investment if you have many DIY applications in which you can employ it. This way, you will make the most profit since for just one purchase you will many different needs.
Our partner site, Plasma Cutter Pro has more in depth information on Angle Grinders.
Recommended Angle Grinder:
Metabo W9-115 8.5 Amp 10,500 rpm Angle Grinder with Lock-On Sliding Switch, 4-1/2"
Metabo LongLife motor with up to 50% more torque for quicker material removal, up to 20% higher overload capacity
Suitable for AC/DC operation
Metabo S-Automatic safety slip clutch helps the user to maintain control if the accessory jams reducing the likelihood of kickback
Tool-free adjustable guard with 7 locking positions
Gear housing can be rotated at 90Degree steps for increased comfort and ergonomics during left-handed operation or for cutting applications
Conclusion: Cut off Tool vs Angle Grinder
If you have a light job and you're restricted to a tight space, then your best bet is a cut-off tool since it will offer excellent performance with much maneuverability. Moreover, it is easy and convenient to use, and it is on the cheaper side. This means that it doesn't provide that much power, but it gets the job done nevertheless.
An angle grinder is an alternative you'll need if you have work that is on the heavier side and requires more power because this beast can provide it. It is sturdy, more expensive and has to be firmly held with two hands. But it won't disappoint as it is also versatile, which means it does many different kinds of jobs depending on the head attached to it, which that proves that it's worth the investment.
In short, there's no winner in the cut off tool vs angle grinder debate, because each of these electric tools is suitable for a specific set of tasks! In the end, assess your needs before you buy either type to see what suits them best. Moreover, keep an eye out for safety, so have your gloves and goggles ready for any flying debris or stuff.
Last update on 2023-12-01 / Affiliate links / Images from Amazon Product Advertising API