As one of the leading tool manufacturers in the world, DEWALT has a huge range of table saws in their armory. As such, the company has the correct table saw for you, whatever your requirements. Today we are giving our DEWALT DWE7480 Table Saw a formal review.
Specifications:
Motor: 15.0 Amps
No Load Speed: 4800 RPM
Blade Diameter: 10″
Arbor Size: 5/8″
Dust Port Diameter: 2-1/2″
Depth of Cut at 90°: 3-1/8″
Depth of Cut at 45°: 2-1/4″
Max Rip To Right Of Blade: 24″
Max Rip To Left Of Blade: 12″
Max Width of Dado: N/A"
Weight: 48lbs
Warranty: 3 years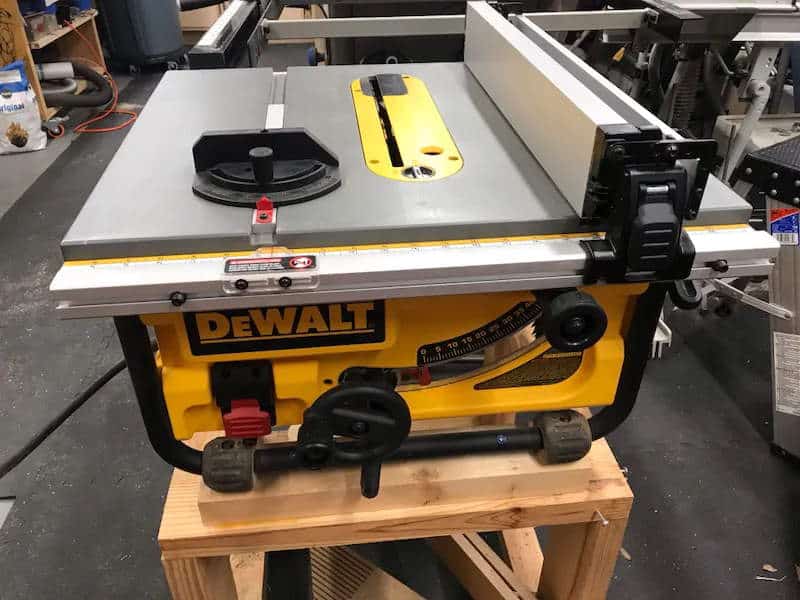 Pros
Reliable dust collection
Accurate and easy to use fence
Lightweight and easy to carry
Great ripping capacity: 24-1/2″
Cons
Poor stock blade
Stand costs extra
Who is the DEWALT DWE7480 for?
The DEWALT DWE7480 table saw is designed for a variety of woodworking jobs, but is mainly used for ripping large sheets of wood. As a compact job site table saw, the DWE7480 table saw is ideal for woodworkers who want a portable table saw that delivers a professional performance.
DEWALT DWE7480 features
Power – Like with most DEWALT table saws, the DWE7480 carries an impressive 15-amp motor. The table saw also features a no load spinning speed of 4,800 RPM, allowing it to rip through wood with ease.
Blade – To saw through tough woods, the DWE7480 is fitted with a 10 inch diameter blade. This blade is constructed from an extremely hard substance, known as carbide.
Portability – Overall the unit weighs 56lbs, which is relatively light when it comes to this tool. Portability of this unit is increased further with small dimensions of 26.5 x 25.8 x 17.5 inches. We would prefer if the unit came with wheels to make transportation even easier, but the DWE7480 is still easy enough to move from job to job.
RIP capacity – Compared to other saws, the DWE7480 has a relatively low RIP capacity. However, at a little under 24.5 inches, the saw will prove more than enough for the majority of applications. In fact, even large pieces of wood-based material can be sawed through with ease. Furthermore, the table saw features a bevel degree ranging from 0 to 45 and a blade arbor measuring 5/8 inches.
Precision – What do we all want from our table saw? Yes, precise cuts! The DWE7480 features a neat rack and pinion telescopic fence which is easily locked, allowing for maximum stability and minimal accidents. The unit table is coated with a low-friction coating that allows everything to run smoothly and ensure consistent cuts.
Build – With a stand crafted from steel tubes, the unit is sturdy and holds its position well. Should you require portability, simply fold the stand and move the unit to the next location. The unit also features feet at the rear of the stand to allow users to work on uneven surfaces. Finally, no one likes a messy worktop – that's why this unit comes with a 2.5 inch dust collection port, which should be attached to a vacuum.
Safety – Safety is paramount. Luckily, the DeWALT DWE7480 table saw comes with DEWALT's Site-Pro Modular Guarding System. This innovative system allows users to easily adjust the guarding components of the saw without the need for any additional tools.
Included:
DWE7480 10-inch table saw
10-inch, 24 tooth carbide blade
Miter gauge
Push stick
Blade guard
Arbor and spindle wrenches
Conclusion on the DEWALT DWE7480 Table Saw
Looking for a portable but powerful table saw? Then the DEWALT DWE7480 may be the correct unit for you. I hope this DWE7480 saw review has proved useful to you, and you now have a better understanding of the product.
To sum up, this table saw is a winner in a number of ways. Firstly, the rack and pinion fence system allows for precision accuracy. The direct-drive motor has supreme power that allows most tasks to be carried out with ease. Finally, the unit has a solid build, but can be easily moved from job to job.
DEWALT DWE7480 10 in. Compact Job Site Table Saw (Discontinued)
Easy Adjustments: Rack and pinion telescoping fence rails make fence Adjustments fast, smooth and accurate
Variety Of Cuts : 24 1/2 inch of rip easily cuts a variety of Larger shelving and trim Materials
Easy Adjustments: Rack and pinion telescoping fence rails make fence Adjustments fast, smooth and accurate
Guaranteed Tough: metal roll cage ensures job site durability
Onboard Storage : Onboard storage provides easy access to the site pro guarding components and push stick when not in use
Not quite what you are looking for, well check out our other reviews on Table Saws.
Last update on 2022-07-18 / Affiliate links / Images from Amazon Product Advertising API