Want a construction grade portable generator for your business or for your whole house, then Generac XP8000E is the solution.
It is well constructed with professional quality grade materials. What makes this generator ideal for jobsites is the generac OHVI engine the generator comes installed with.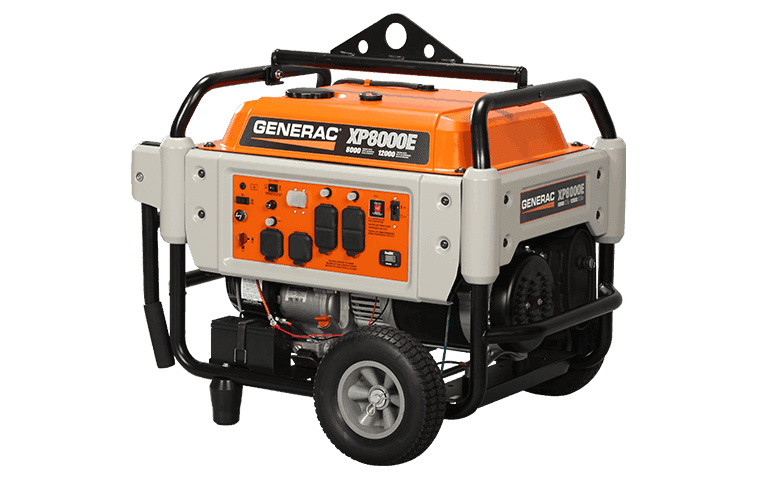 It is designed to run continuously for long hours, days and even weeks when there is a power outage.
True power technology provides clean, smooth operation of sensitive electronics, tools and appliances. The never flat wheels and fold down handle makes it more portable. Thanks to the never flat wheels, you can take it to any terrain.
PROS
Fuel gage installed
Clean power
Well built
3 year warranty
CONS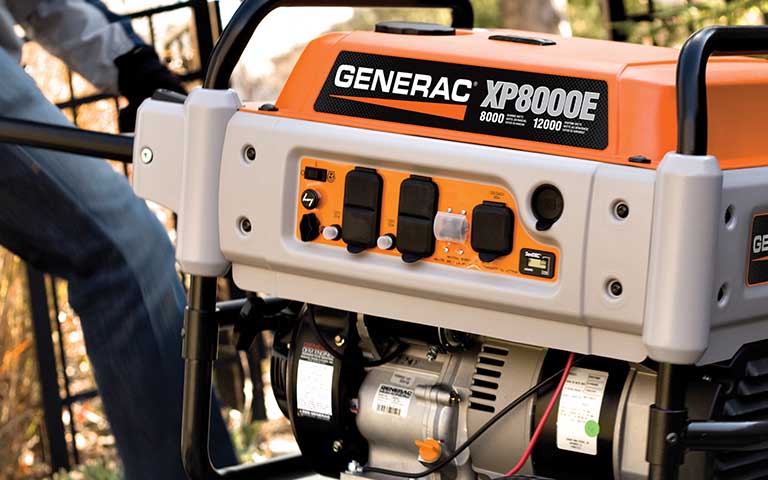 TIPS
These are some of the general tips you need consider when you buy this genset;
Get a fuel stabilizer
Periodically start the machine if it is going to be unused for a very long time
Tie units down when in transport
Limitations of the genset; what it can and cannot run.
To deter thieves, buy a cable lock
Always test your newly bought generator out before there is an emergency or the actual time of using. In that you will be sure the machine works. If anything than that you can replace it before the warranty expires.
POWER
This portable generator puts out 8000watts. The surging watts is 10,000watts. This genset has enough power to start and run most of your tools and appliances simultaneously. It also has 2 high voltage 30 amp outlets. One of which is rated for 120/240V.
RELIABILITY AND DURABILITY
Buying a generator is a huge investment so why not buy a reliable and durable one. And the generac XP8000E will not let you down. It is fitted with Generac's OHVI engine which are the only engines designed for generator use. Apart from the reliability and durability of the engine, it can be run for a very long for weeks during power outages. Your engine is always protected from damage by the low oil pressure shutdown. Maintenance kits are also included. The pressurized lubrication system with oil filter of this genset works like your car's lubrication. It's outlets are covered for protection from the environment.
OPERATIONS
The benefits of an idle control equipped generator are fuel conservation and noise reduction. This generator is not an exception. With all the power, you get a good 10 hours of run time at 50% rated load. It is also equipped with electric start with a manual pull start as backup. Centralized control panel gives you easy access to controls at one place.
Unfortunately, Generac has discontinued the XP8000e model and the replacement is the Generac GP8000e. The two are almost identical in just about every way. Check it out, you won't be disappointed!
Generac 7676 GP8000E Portable Generator, Orange, Black
Featuring power Rush advanced technology – delivers over 30% more starting capacity allowing you to do more with less
Dimensions: 27.2" W x 27" D x 26.5 H | Weight: 198 lb
10000 Starting Watts. 8000 Running Watts
Electric start Model for easy operation (Battery included)
Generac durable OHV engine with splash lubrication provides a long engine life
CONCLUSION
This is a premium generator that offers several features over Generac's XP series. Some of the features are contractor grade model, including idle control, and integrated lifting eye and a full panel ground fault circuit interrupter (GFCI). It is designed for extended use.
Last update on 2022-07-25 / Affiliate links / Images from Amazon Product Advertising API