I am sure one of the things that you cannot do away with is electricity. It has become part of us. The utilities do all their best to give us a constant supply of electricity, but there are times in natural disasters and other instances when it becomes impossible.
That is when your standby generator comes in to save the day. The New Briggs & Stratton 12KW Standby Generator is a redesigned standby generator system which is smaller in size and also produces 60 percent less noise as compared to its predecessor.
Description of Briggs & Stratton 12kw Standby Generator
The Briggs & Stratton engineers have redesigned it up from the ground up to provide clean power for your whole house. The wonderful thing about this is how silently it runs.
It boasts being 60 percent quieter than the previous model. The generator's 50 percent smaller footprint also makes it easier to handle. Because of the silent nature of the generator, it can be placed closer to your house.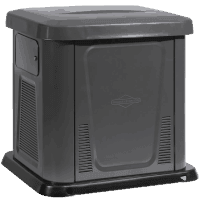 The significant noise reduction of the Briggs & Stratton 12w standby generator was achieved by replacing the older engine with a newer high-quality engine as well as fitting it with a premium muffler.
The alternator's intake ducting was also re-designed. All these factors contributed to the sound quality improvement.
This is what Jeff Custer, VP and General Manager of Briggs & Stratton Standby Power said:
"More placement option because of its smaller size and reduced noise allows homeowners to blend the unit into their property, so they get that peace of mind only backup power can provide without sacrificing the aesthetics of their property. Plus, the new unit achieves National Fire Protection Agency standard approval so it can be placed as close as 18 inches from the home, it even fits on properties with tight lot lines. "
For instance, when there is a power outage, you are not going run all your household appliances at the same time. This is where the guess work comes in, which of your electrical appliances should be turned on or the number of appliances that can be used simultaneously without overloading the generator. Briggs & Stratton's proven Symphony II power management system patented technology eliminates that guess work.
It automatically balances the power needs of your home's electrical loads and actively monitors and manages power usage. This allows you prioritize the use of up to eight high-wattage appliances. This includes air conditioner, furnace, sump pump etc…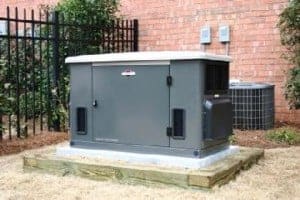 Guess what, the new Briggs and Stratton 12kw is compatible with this technology.
With the new smaller 12KW generator operation and troubleshooting is made easier. The unit features a redesigned control panel which includes a scrolling LED board that makes it easy for you to determine if the standby generator is running in its optimal condition or needs servicing.
Earlier on, I told you that this generator spots a new engine, it is a premium-grade Briggs & Stratton Vanguard engine. It features an electric governing system for precision engine speed control thereby creating a quieter, more durable generator with cleaner power.
Fuel Supply
The generator runs on natural gas (NG) or liquid propane (LP). According to the manufacturer Briggs & Stratton, you achieve 12,000 running watts when the generator is powered by liquid propane. When it is run on natural gas the power reduces a little bit but the power output is still impressive. That is you achieve 11,000 watts.
The fuel consumption for liquid propane (LP) is 1.42 gal/hour or 119 ft3/hour (NG). At half load the generator consumes 102,000 BTU/Hour when it is running on Natural Gas (NG). It is also advisable to have adequate supply on NG or LP. Moreover, the closer your are to the fuel source the lower the cost to connect your generator.
Durability
I cannot discuss all the qualities of this unit without talking about the durable nature of this standby generator. How well it can withstand mother nature? We all know that we can't outdo mother nature, but we could certainly find a way to withstand her harsh conditions. This is exactly what the engineers of this generator did. By designing the enclosure of the generator with galvanneal steel, it provides rust-resistant protection for extreme and all weather conditions.
Last but not the least, every good product comes with a warranty. It is always recommended to purchase a machine with a longer warranty. This comes with a five-year parts and three-year labor limited warranty.
Briggs & Stratton 40531 12kW Standby Generator with 200 Amp Symphony II Transfer Switch
Includes 200 amp automatic transfer switch with flexible indoor/outdoor installation
12 kW with Symphony II Power management can manage a Home, up to 5,500 sq. ft. with a 4 ton air conditioner saving you thousands less than a previously required 20 kW
Closer placement options as close as 18 in. from your home per the National Fire Protection Agency 37 standard
Comprehensive 5 year parts, labor, and Travel Limited Warranty
Power all circuits without a sub-panel; Rated at 200-Amps @ 240-Volts
Conclusion
You want a generator that can power your whole house? You also want to manage your high wattage appliances ? Then the new Briggs & Stratton 12KW Standby Generator and the proven Symphony II power management system is all that you need.
Last update on 2023-11-28 / Affiliate links / Images from Amazon Product Advertising API