Overview of the Product
The AR Blue Clean AR383 Pressure washer is a light duty cold water pressure washer that delivers 1.5 gallons per minute at a maximum 1900 PSI of pressure. It also features a 14 amp motor, a hose reel, and trolley mounted design with two wheels for enhanced portability.
The AR Blue Clean AR383 is one of the more affordable power washers and very well worth the money.
Intended Use
The AR Blue AR383 Pressure Washer is intended for light to medium washing tasks and is perfect for around and outside the home washing, such as automobiles, decks, windows, garages, and backyard areas. This lightweight washer can be moved anywhere a good cleaning is needed and provides enough washing pressure for most non-professional jobs.
Cord Length
This pressure washer features a 30 foot electrical cord to reach distant power sources and to keep water away from electrical outlets. It has a GFCI plug that automatically disconnects electric current should water find its way into any powered areas of the unit, the power cord, or the electrical plug.
Hose Reach and Spray Handle
Its 20 foot high pressure hose is almost long enough to wash an average sized car without needing to reposition the unit. It has a gun-type handle with a trigger and a pressure switch inside the unit that only runs the pump and motor when the trigger is squeezed. This feature helps increase the life of the pressure washer for long-term use.
Performance and Water Pressure
At 1900 PSI, this pressure washer is powerful enough for residential tasks. It will not remove paint and siding like some of the more powerful industrial washers. For stubborn dirt and stains, a detergent may be used.
The AR Blue Clean AR383 Pressure Washer includes a soap bottle that mixes detergent with the water stream at low pressure to apply it to the washing surface. After a few minutes, a rinsing at high pressure should clean the more stubborn stains.
Attachments Included
This pressure washer includes two other wand attachments for the handle. One is a rotating wand that spins the water stream to effectively wash away more stubborn dirt. The other wand attachment adjusts the high pressure spray to various angles, which eliminates the need for other attachments or nozzles.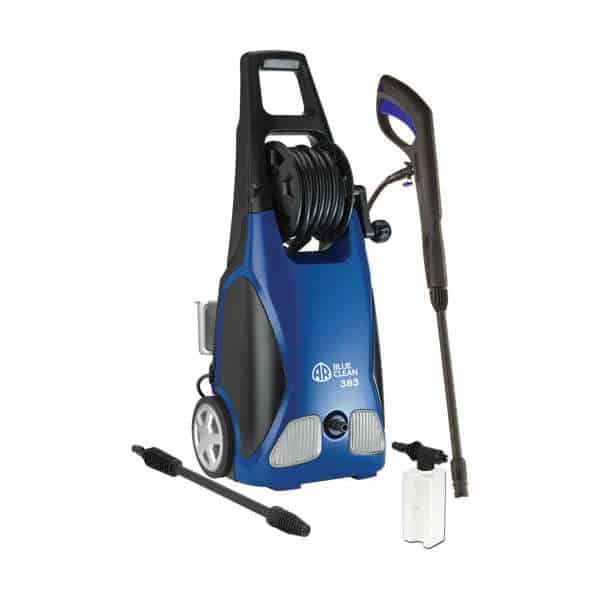 Storage
The AR Blue Clean AR383 Pressure Washer features a hose reel for the high pressure hose storage. Reviews are mixed on the quality and usefulness of this feature.
It is somewhat awkward and the hose must be disconnected from the high pressure port to reel it in, so some users suggest simply coiling this hose around the top handle of the unit for short-term storage.
For long-term or winter storage, the reel should be used so the hose does not fall off the unit and uncoil.
Some Minor Issues
The high pressure hose is a plastic line that is stiff and is somewhat difficult to coil and uncoil. These issues, though minor can make using the AR383 and storage it sometimes problematic. Some people also expressed a need for an extra 5 to 10 feet of length.
A recommended upgrade would be to purchase an extended length, high pressure rubberized hose that is easier to use and to reel in for storage.
One other issue with this pressure washer is the plastic garden hose adapter at the intake port. This piece can be difficult to tighten on depending on your garden hose. If not tightened well, it may result in leaking or spraying when the garden faucet is opened.
It would be wise to purchase a brass hose adapter and replace the plastic part with it. Doing this will make attaching the garden hose much easier and prevent leaking at the intake port.
Customer Service and Replacement Parts
Should the AR Blue Clean AR383 need repair or replacement, AR has a customer service line that is top rated. The company's representatives will respond quickly to any questions or complaints, and they will do what it takes to make a customer satisfied. If the issue cannot be resolved, they will replace the entire unit or refund the purchase price.
AR Blue Clean AR383 Pressure Washer Review Summary
The AR Blue Clean AR383 1900 PSI Electric Pressure Washer with Hose Reel is overall a fine purchase and it is ideal for around the house cleaning jobs that need more power than an ordinary garden hose. Its lightweight unit and its rolling design are great for people who would have far too much difficulty with the larger, more powerful pressure washers on the market.
The AR383 Pressure Washer is not as powerful as these larger units, but for its size, versatility, and usefulness, it is well worth the purchase price.
Sale
AR Blue Clean AR383 Electric Pressure Washer-1900 PSI, 1.51 GPM, 14 Amps Bayonet Connect Accessories, On Board Storage, Portable Pressure Washer, High Pressure, Car Washer, Siding, Driveways, Patio
HIGH PRESSURE PERFORMANCE: This compact pressure washer is equipped with a powerful universal motor and a tri axial pump that produces up to 1900 PSI, 1.51 GPM, and 14 amp the perfect outdoor cleaner
COMPACT TROLLEY DESIGN: This portable pressure washer is built on a two wheel trolley making it easy to maneuver, this trolley also offers convenient storage for your pressure washer accessories
CLEANING VERSATILITY: Power wash through dirt and grime on your patio, siding, fencing, and car using the vari-spray and turbo lance, along with the 25 ounce bayonet foam cannon
DYNAMIC ACCESSORIES: Equipped with a range of versatile accessories to cut setup time in half, such as the bayonet trigger gun, bayonet vari-spray and turbo lance, and the 20 foot super soft hose
TOTAL STOP SYSTEM: The AR383 features a TSS (Total Stop System), which shuts off power to your pressure washer when the trigger gun is not engaged, this extends the life of your pressure washer.
Make sure to check out our other electric and gas pressure washers
Last update on 2023-11-22 / Affiliate links / Images from Amazon Product Advertising API