Our Karcher K5 540 electric pressure washer review gives you the information you need to know essential information about the product, including its features, specifications and what users think.
Electric pressure washers have gained popularity as an alternative to gas powered pressure washers due to their convenience, ease of use, and lack of noise. Power washers are used for numerous cleaning chores outdoors ranging from cleaning the patio, siding of a house, to all types of vehicles.
They are not only versatile but a handy must-have for anyone who wants to get rid of hard to remove dirt and grime without having to scrub down the surfaces by hand.
Is this the Karcher K5 540 Electric Pressure Washer right for you?
Depends on what you intend to tackle with your pressure washer. Part of the Karcher K5 540′s design is geared towards handling different types of cleaning tasks making it versatile and flexible enough to take of different surfaces from driveways to the sides of your home. It is also built to accommodate whatever needs the user has and the most strenuous of tasks. It is intended for residential use.
As mentioned above, electric pressure washers are praised for their quietness and discrete nature for cleaning needs. Unlike gas power washers, they hardly produce any noise while churning out gallons of water in a minute nor do they produce toxic exhausts. Users need not have to fear disturbing their neighbors while they do their outdoor cleaning chores.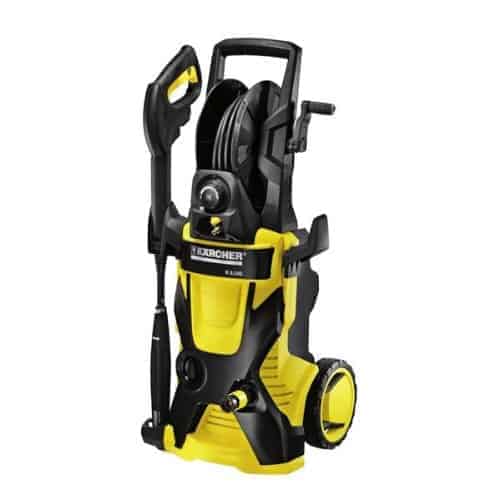 Features of the Karcher K5 540
Firstly, the Karcher K5 540 has a water-cooled induction motor that is guaranteed to extend the pressure washer's lifespan and improve the performance. Like all electric pressure cleaners, you'll need to have it plugged safety outdoors. It does come with a long power cord but you may need an extension cord if your plug is a distance away from where you're cleaning.
As for its potential power, the overall amount of pressure the Karcher K5 540 is able to produce is 2000 PSI, which is roughly 40 times the amount of pressure a garden hose uses. The water is released by a trigger gun which provides an additional element of safety for this pressure washer. The spray gun set up also makes control and reach much more convenient when in use.
To suit different cleaning needs as well as surfaces, there are a variety of nozzles to choose from to work ideally for your task. For the more difficult jobs, Karcher also include what they call the DirtBlaster spray that increases the pressure by roughly 50%.
For handling milder tasks that don't particularly require much power to get the job done, there is a nozzle for that as well. The Vario Power Spray wand will accommodate this need. But utilizing this wand, the user is able to adjust the pressure to their preference. For some delicate surfaces, using a milder stream of water helps keep you from causing any damage while you clean.
In terms of convenience, the Karcher K5 540′s pressurized hose is actually built in rather than wrapped around a coil for storage. It's easy to pull out and put away.
This pressure washer only weighs a mere 31 pounds, so it is easy to maneuver about and carry or move, especially when leaning it on it's back wheels to move it about. It's not a chore in the slightest to frequently take it out storage and use it.
The maximum temperature that the water will reach is 104 degrees Fahrenheit which is most useful against whatever material you are washing. This does a good job for the the toughest of dirt and grime that just won't get off.
For when you need to use soap to get the job done, the unit houses an on board detergent tank. The Karcher K5 540 has a built in detergent tank to hold the detergent of your choosing. The distance you need to stretch out to won't be much of a concern with the Karcher K5 540 electric pressure washer considering that the hose extends about 25 feet.
Another feature for convenience, the Karcher K5 540 Electric Pressure Washer has a quick connect feature where it is able to connect to the owner's garden house for use. This completely removes the pain of unraveling that pesky pressure hose and eventually winding it back up again every time you want to use your pressure washer.
Finally, this power washer is capable of taking water directly from a standing source which can come in handy if the user is lacking in a faucet of some sort for this need.
Sale
Kärcher - K5 Premium - 2000 PSI Electric Power Induction Pressure Washer corded - With Vario Power & Dirtblaster Spray Wands - Pressurized Hose Reel & Adjustable Detergent Tank - 1.4 GPM, Yellow/Black
Powerful Performance: The K 5 last longer than universal motors and delivers exceptional cleaning results! Water-Cooled induction-motor and non-corrosive N-COR pump.
PRESSURE REGULATING: Use the Vario Power spray wand for light-duty jobs, and a patented Dirt Blaster spray wand for superior cleaning performance on tough-to-clean surfaces.
HIGH-PRESSURE HOSE: Comes equipped with a generous 25' kink-resistant high-pressure hose that offers plenty of reach, as well as an onboard pressurized hose reel for simple storage
Onboard Detergent Tank: Features an onboard removable detergent tank for easy soap application, while an adjustable flow dial allows you to control how much detergent is applied
THE KARCHER PROMISE: 'Cleaner. Quicker' - 2000 PSI/1.2 GPM Motor. Adjust by twisting the Vario Power Spray Wand for effective and surface-friendly cleaning. Perfect for cleaning concrete, pavement, driveways, patios, decks, sidewalks, RVs, cars, boats, homes, fencing, and more.
The Karcher K5 540 Electric Pressure Washer is ideal for someone with a variety of jobs that a pressure washer would be needed for.
Last update on 2023-11-22 / Affiliate links / Images from Amazon Product Advertising API