The Simpson PS3228 Powershot Gas Pressure Washer is a powerful washer that can be used for professional cleaning, including decks, paint preparation, graffiti removal, restoring wood, along with a wide variety of other uses.
Some of the great features of this gas pressure washer is it is very compatible, as well extremely easy to set up and transport anywhere you need to. Due to its power, it can be used for commercial cleaning purposes or if you have bigger cleaning tasks, aside from residential purposes.
What Makes the Simpson PS3228 Powershot Gas Pressure Washer So Good?
Powerful, Reliable Engine
The Simpson PS3228 Powershot Gas Pressure Washer runs on a powerful Honda GX200 gas engine. The engine includes an oil alert system that informs you when the oil is low or should be changed. Triple plunger pumps allows this device to have higher pressure at the nozzle. This features gives users more spraying force in anything you are looking to clean. The 3200 PSI pressure rating also gives it a good advantage over many lower powered pressure washers on the market today.
Engine Efficiency
So what makes this pressure washer better than the other models on the market today? Actually it's not surprisingly–the engine. While it does have a Honda Engine, allowing you to know it is more reliable, in reality, the engine size is still standard compared to other models.
Hose and Spray Control
The hose on this device is made from poly-braided material, making it kink free, so you never have to worry about the hose getting tangled up or causing issue that can affect the spray to perform less than it should. The wand on the impson PS3228 Powershot Gas Pressure Washer has 5 adjustments, allowing you to apply the pressure and spray technique required for various cleaning tasks as you need them.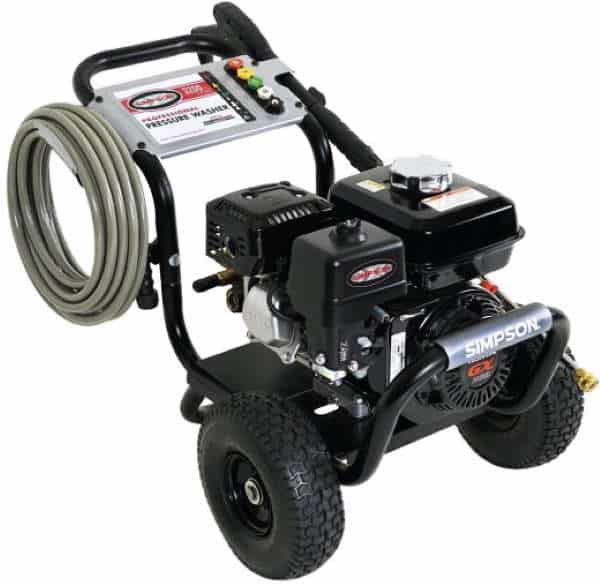 Cost for Quality
The power delivered by the Simpson PowerShot 3288 is easily felt, especially if you have ever used other lower quality pressure pumps on the market today. It does cost more than other popular brands like Black & Decker or Briggs and Stratton models, but you will also get the better results in terms of quality of performance it has over these other models.
So therefore, even if you have to end up spending around $200 more than the cheaper models available, you will be much happier with this device over the long run if you want something that is reliable and provides continuous spaying power. Anyone considering to purchase this pressure cleaner will be satisfied for purchasing it, even if it costs a little more.
Pump Quality
What really sets this apart is the machines' pump. As mentioned earlier, the plunger pump allows the impson PS3228 Powershot Gas Pressure Washer to have a higher pressure at the nozzle. Having the higher pressure results in being able to clean more effectively. That's because the large pressure is able to clean and take off any type of dirt, paint, mold or other particles stuck on almost any type of material you can imagine.
Long Operational Time on One Refill
One other area where the Simpson PowerShot PS3228 pressure washer does a good job in is its ability to run for a long period with minimal amount of gas needing to be pumped into the unit. One full tank can last as long as 4 hours. This gives you plenty of time to use this equipment for cleaning things before needing to refill.
Unlike many other models that can quickly break down, the sturdy Honda Engine ensures that the Simpson PowerShot PS3288 power washer will last for many years to come. Be sure that it is properly maintained at all times as gas engines need more care. While this is typically used for commercial purposes, it does a good job for larger residential tasks.
Simpson PS3228 Powershot Gas Pressure Washer Review Summary
This is high powered 3200 PSI gas power washer that is a bit bulkier than the smaller, less powerful units around, but packs a good punch. It lets you make quick work of bigger cleaning tasks like ATVs, boats, wide driveways.
The practical price makes it a great device to use at home. Many use this in rural areas where there is a lot of dirt that gets on their driveways or sidewalks, as this pressure cleaner will quickly get rid of it in a matter of seconds.
SIMPSON Cleaning PS3228 PowerShot 3300 PSI Gas Pressure Washer, 2.5 GPM, Honda GX200 Engine, Includes Spray Gun and Extension Wand, 5 QC Nozzle Tips, 5/16-inch x 25-foot MorFlex Hose
Professional Performance: Easy-to-assemble and easy-to-start with its Honda GX200 premium engine, the PowerShot power washer is great for contractors who specialize in deck cleaning, wood restoration, paint preparation, and all other professional services.Unit Dimensions: L: 21" x W: 24" x H: 34"
Power and Durability: A powerful, reliable, maintenance-free AAA industrial triplex plunger pump delivers 3300 PSI at 2.5 GPM and includes thermal relief to prevent overheating; PowerBoost Technology delivering higher pressure at the nozzle
Sturdy and Portable: The welded steel frame construction with powder coated finish offers durability and corrosion resistance; 10-inch premium pneumatic tires deliver ease of maneuverability across various terrain and uneven ground
Includes Quality Simpson Accessories: MorFlex 5/16-inch x 25-foot high-pressure hose is kink- and abrasion-resistant; 5 Quick connect nozzle tips: 0°, 15°, 25°, 40° and Soap; Ergonomic spray gun 16-inch steel wand/lance
Important Notes: Keep max fuel level 1/2 Inch below bottom of filler neck to avoid spillage; All pressure washers are 100% functionally tested in factory and may contain minimum residual fuel/oil or fuel odor; Pump/Hose Connection: Threaded M22 connection
Last update on 2023-11-22 / Affiliate links / Images from Amazon Product Advertising API