You must have done all the arduous stuff on the green lawn: Seed planting, watering, and fertilizing. Now, it is the time to have real fun while harvesting the fruits of your dedicated efforts under suntan. This is exactly where you will need a lawn mower; in fact, a proper mower to do your needed tasks without handing over the task to someone else.
Regardless of whether your lawn is small or big land of a rolling meadow, it is undoubtedly an enjoyable place to play or unwind. However, once it is fully developed, regular mowing is essential for retaining its wholesome manicured look.
In reality, mowing is more than making a lawn attractive. If done properly with the right type of equipment, it also retains the health of your grass as well as puts off weeds and probable lawn ailments.
The focus here is totally about getting the best electric lawn mower. This is because in case of selecting a wrong mower, you are likely to slog even after a proper weekend care. Whether you feel that an electric push mower is ideal for a small lawn or a riding one is great for a bigger area, getting the right electric model is essential to take quick and easy care of your mowing efforts as well as lawn.
The Best Electric or Cordless Lawn Mower Reviews
Gardena 4025-U Lithium-Ion Cordless Push Reel Lawn Mower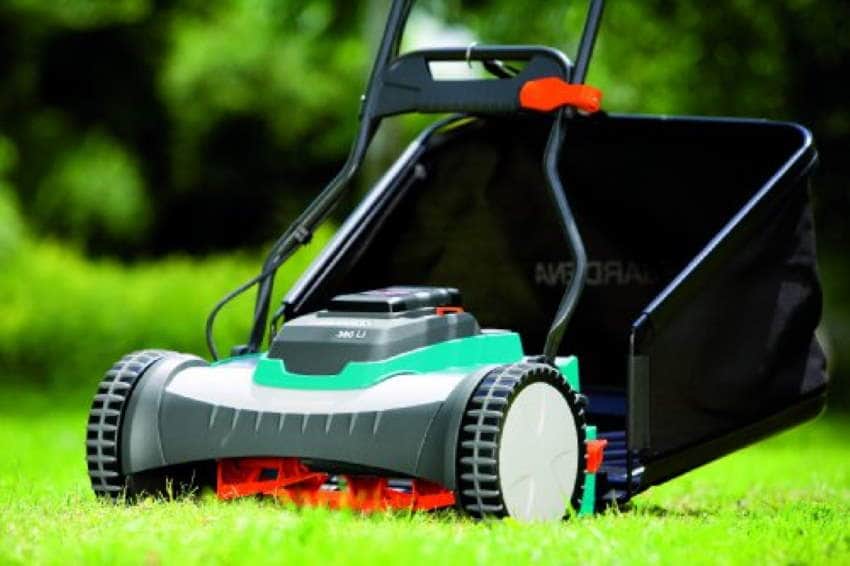 Gardena is also associated with the Husqvarna group and is quite famous for manufacturing garden equipment. Gardena is a leading brand in Europe and manufactures all kinds of watering system, tree and shrub care, garden tools and lawn care equipment. They make every kind of lawn mowers according to their consumers' demands.
Gardena 4025-U Cordless Reel Lawn Mower is digitally operated and works on a battery. It is an ideal equipment for small yards and especially very easy to handle by elderly or people with little disability. It is light weight, easy to handle, and if you do not like to handle gasoline, this one is for you.
Gardena 4025-U Cordless Reel Lawn Mower operates with rechargeable batteries, but can work without it also, as a normal reel mower. The battery is removable too. So, the consumer benefits either way. Its LED Display unit informs the consumer when the battery needs charging.
The user can decide grass size cut by adjusting the cutting height scale. The handle is easy to move even for the elderly, requires minimal effort and folds for compact storage. The included Auto Detailing Brush makes mower cleaning after usage as easy as a swish move. Gardena offers one year parts and labor warranty on all its products.
Gardena 4025-U 15-Inch 25-Volt 3.2 amp Lithium-Ion Cordless Push Reel Lawn Mower
Can also be used without rechargeable battery as a conventional reel lawnmower.
LED display indicates battery charge level. Graphics base frequency: 200 MHz
Cutting height is easily and infinitely adjustable using a handy controller and cutting-height scale.
Ergonomically shaped handle, featuring conveniently positioned switch, makes it easy to push the lawnmower.
Powerful, easy-care, 25 V lithium-ion battery for powerful cutting performance, replaceable.
---
Black & Decker 15″ Electric Lawn Mower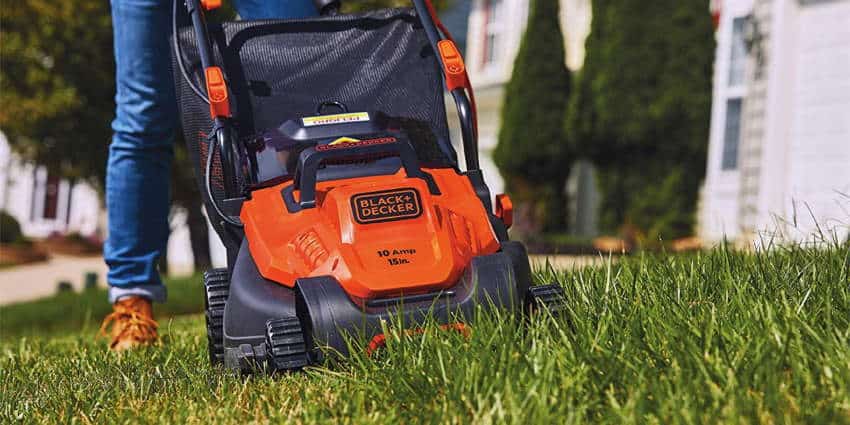 Black+Decker has made a remarkable product according to the needs of the day. People don't have time to go to gas stations for refilling their lawn mower fuel tanks. Still everyone wants a green lawn. Black and Decker gives you a solution. Buy a Black+Decker 15″ Electric Lawn Mower and free yourself from hassles.
Black+Decker 15″ Electric Lawn Mower is electrically operated; which can be removed and charged anywhere. Self Propelled System relieves its users from back pain; only requires a simple button push and then the user can stroll behind and enjoy a walk.
Most importantly, it has no cord, so the user does not entangle and fall or get shoulder pains by managing the cord. Furthermore, it has three main functions of mulching, rear bag and side discharge facility. Rust proof blades perform their work to perfection.
Cutting height is determined with the help of a lever and you have 6 levels of adjustment from 1 inch to 3 inches. In addition, it has very low noise, so it won't disturb your neighbors. After usage, simply and quickly fold it and it will slide in a small space in your garage.
An outstanding quality is that it does not emit any harmful fumes in the atmosphere. It is 100% environment friendly. Black+Decker offers a two year limited Parts and Labor warranty.
BLACK+DECKER Electric Lawn Mower, 10-Amp, Corded (BEMW472BH)
Lightweight corded electric mower gasless 10 Amp 15 inch electric mower for powering through rough grass
Comfort grip bike handlebar design reduces friction and enhances maneuverability for small lawns
Enhanced clipping collection winged blade yields 30% better clipping collection
Push button start no-hassle startup easy-to- use features
Adjustable cutting height 6 adjustable cutting heights ranging from 1 inch to 3 inch
---
GreenWorks 25022 Lawn Mower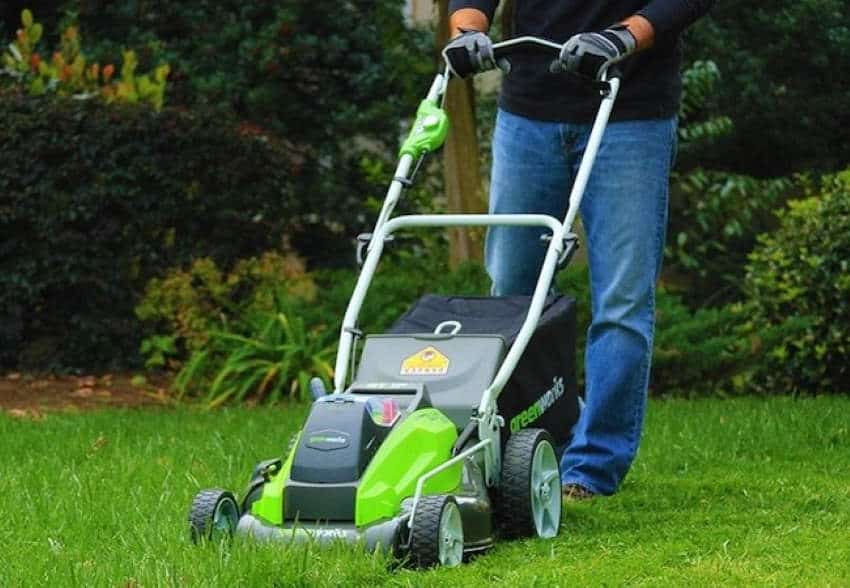 Greenworks 25022 is an electric powered corded lawn mower. After purchasing the Greenworks 25022, which is simply the best lawn mower, all you need to do is to take it out of the box and start using it. There is no need to put together any parts at all. Simply plug it in, hit the start button and you are ready to go.
The size of Greenworks 25022 is really ideal. Its deck is twenty inches which is obviously big enough to mow a reasonable sized lawn but also, it makes it convenient to mow in hard to get portions without any requirement of grass trimmer. This lawn mower has a deck which is build up of steel and it's really good to have such a feature in a low price lawn mower. This also makes it a better choice as compared to other mowers in the same price range and speaks for the high build quality of Greenworks 25022 as it is really strong and solid.
One of the outstanding features of Greenworks 25022 is the flexibility to set it to mulch, rear bag or side discharge according to your own requirement and it performs really well in all these three modes. You can adjust it at seven different heights starting from 1.5 inches to 3.75 inches. You can set all these different height by using the single lever with high degree of convenience.
Sale
---
Earthwise 50214 Electric Lawn Mower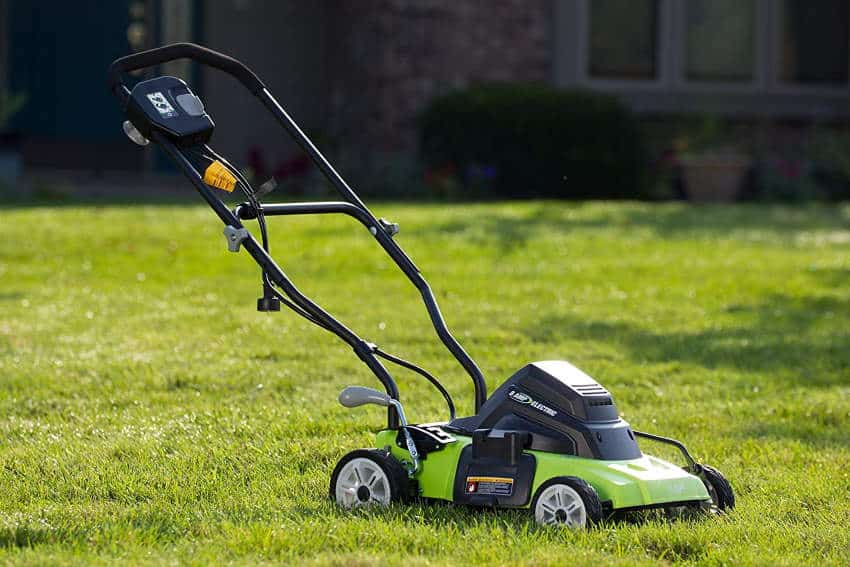 Earthwise 50214 is a small electric lawn mower which is highly maneuverable and is lighter in weight. It is especially well suited for small yards where larger mowers can't be conveniently employed.
It is very convenient to assemble the Earthwise 50214. All you need to do put it together and attach the handle. Now you are ready to go. A few users claim that they managed to assemble this mower in less than ten minutes. Its handle is adjustable and every user can set it according to his or her convenience or preference. Its handle can be adjusted for both tall and small users.
After completing the mowing work, you can collapse the handlebar into two pieces and place it on top of the mower. After doing this, the mower has approximate dimensions of 30x50x20 inches.
The cutting height of Earthwise 50214 electric lawn mower can easily be adjusted by using a single lever. It takes only three seconds to adjust the height. The lever fits really nicely into the slots which provide the capability of adjusting the height from one and a half inches to four inches. As a result, this mower can be safely employed to manage overgrown lawns but when used in such lawns, it is really hard to push the mower.
You have the option to either mulch the clippings or to discharge them to the side. Mulching is considered to be the better choice and as a result the side discharge is rarely employed. So it works fine when side discharge is incorporated. As far as mulching is concerned, it works tremendously well. The clippings get chopped into small pieces and get spread across the lawn evenly. However, this mower doesn't allow you to bag the clippings.
Earthwise 50214 14-Inch 8-Amp Mower, Corded
Powerful 8-Amp motor provides the power to cut all types of grasses; High efficiency motor for gas-like power
Large 14" cutting width with single lever easy-change cutting height adjustment from 1.5"-4"; 5.5" front and 6.5" rear wheels for maneuverability
2-in-1 side discharge and mulching system; Adjustable comfort 'V' handle with cushioned grip for easy of use
Compact and slim frame with folding handles for easy storage; Cord retention hook keeps cord secure while in use
Lightweight and easy to operate
---
Earthwise 50519 Electric Lawn Mower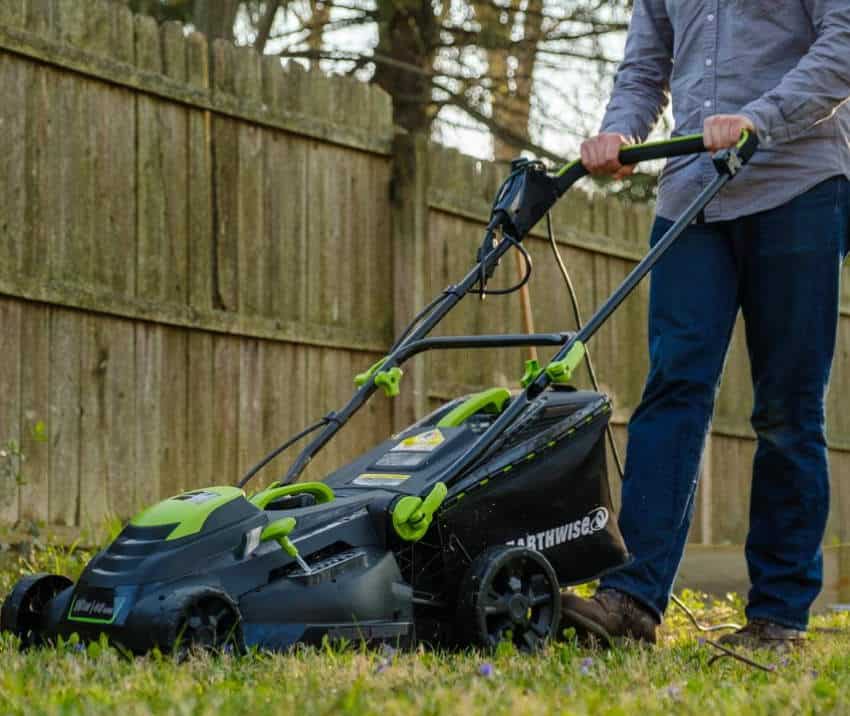 Earthwise lawn mower is considered to be the best electric lawn mower by several users. It is one of the terrific products you can easily buy online. Because of its high acceptance, several online stores are now selling this machine.
The Earthwise 50519 Electric Lawn Mower has the following distinguishing features. It has a lever on the side for convenient wheel height adjustment. In order to apply close cut, you are required to set the height to 1″. You can adjust this height up to 3″ if you want to have longer cut. Also, the handle is adjustable and you can easily set it according to your height.
This lawn mower is powered by electricity. It requires 13 Amps power and can be easily employed after getting connected with a normal power outlet. As a result, it incorporates Eco friendly mowing of lawn and doesn't create fumes pollution at all.
This lawn mower has a 19″ steel deck which provides broader mowing coverage. As a result, you can enjoy highly efficient and quick mowing by spending minimum amount of time and without doing much labor.
It incorporates 8.5″ wide rear wheels along with 6″ wide front wheels which makes it highly convenient to maneuver and move this mower on various types of lawns. It can be easily employed on uneven terrain.
The handle provides a comfortable grip and efficient control over the mower while working. This mower has the capability of using rear bagging or mulching to manage the lawn clippings.
Earthwise 50519 19-Inch 13-Amp Corded Electric Lawn Mower, Multi
Electric lawn mower with a powerful 13-Amp motor to cut all types of grasses; High efficiency, yet low-maintenance motor for gas-like cutting power
Corded electric lawn mower with a large 19" cutting width and 5 changeable cutting height adjustments from 1" to 2.5"
2-in-1 rear discharge and mulching system that includes a hard-top 16 gal grass bag with grass level indicator for easy disposal
Corded lawn mower with adjustable handle height and position for easy and comfortable handling; Compact and slim frame with foldable handles for easy storage and transport
Lightweight and maneuverable; planet-friendly gas-free lawn mower
---
Sun Joe Mow Joe MJ403E Lawn Mower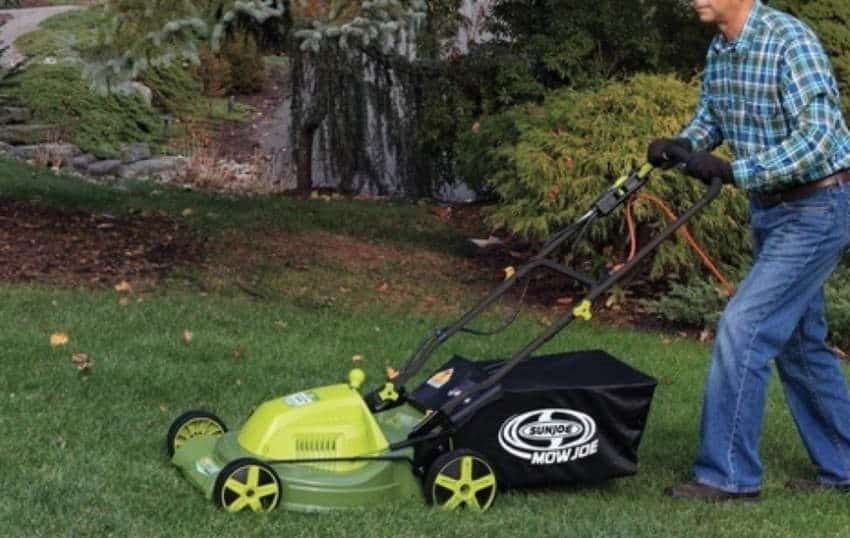 Sun Joe Mow Joe MJ403E is a best electric lawn mower which is really efficient for keeping small to medium lawns tidy. It incorporates mulching blade or a rear bag discharge chute. This lawn mower employs 13 amp motor along with a durable blade that is capable of cutting 17″ wide path at a time. It needs 12 gauge, 50 to 100ft outdoor/indoor extension cord.
Sun Joe Mow Joe MJ403E is a maintenance free lawn mower. It doesn't require oil, gas or any sort of tune ups.
This lawn mower has the capability of getting the height adjusted at seven different heights . As a result, it can be efficiently employed for several types of lawns by various users.
The Sun Joe Mow Joe MJ403E lawn mower incorporates a rear grass bag which has the capacity of 12 gallons. This grass bag can be conveniently detached to facilitate easy disposal.
This lawn mower has durable steel blades which provides extremely perfect cutting with high degree of precision. Therefore, you can have a well managed lawn without much labor and complication. The
Sun Joe Mow Joe MJ403E is perfectly capable of handling various types of small to medium sized lawns and you can employ it with full confidence for such lawns. However, as far as the larger lawns are concerned, you may need to consider other options.
Sale
---
WORX WG788 19-Inch 36 Volt Cordless PaceSetter Self Propelled 3-In-1 Lawn Mower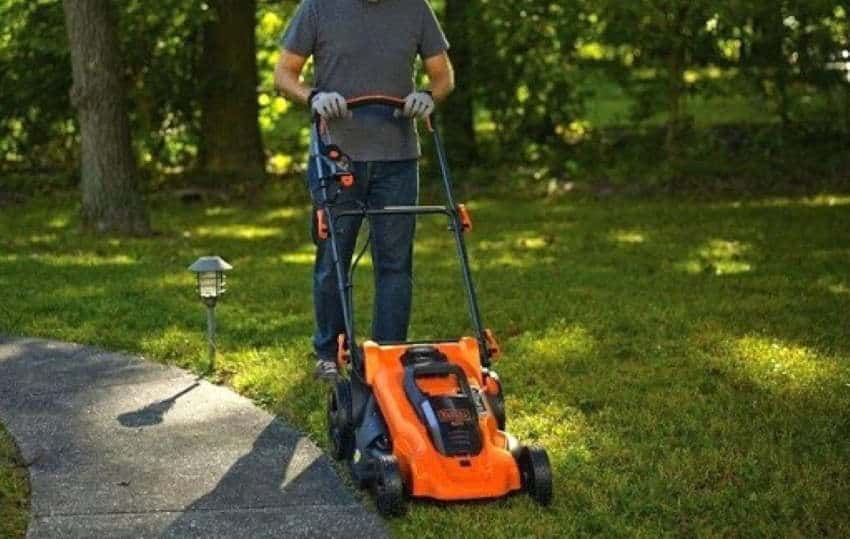 The most stylish of all lawn mower reviews in this list is the WORX WG788 Cordless Lawn Mower. Looks like a small sports car and grabs the attention of its buyer at its first look. An ideal appliance for large lawns to add beauty and value.
The WORX WG789 has a 36 volt battery which is also removable. The Pace Setter works in connection with self propelled system to adjust with user's speed and need. Equipped with Intellicut technology, this best lawn mower adds torque for tough grass when needed.
Cutting height can be adjusted to six height positions. Excellent quality blades are used which perform their work in a single go. It performs various tasks, such as mulching, side discharge and bagging. Because its cord free, it saves its users from frozen shoulders.
Handling is made easy by the foldable handle, which also provides good grip. It does not emit harmful fumes and becomes a user favorite due to this also.
A two year limited parts and labor warranty is offered by the company.
WORX WG788 36V 19" Cordless Electric Lawn Mower with IntelliCut
Cordless mower with removable, rechargeable 36-volt battery
IntelliCut mowing technology adds torque when you're cutting tough grass
Special mulching blade chops up clippings better than standard blades
Battery runs for up to 1 hour or 18,500 square feet per charge
19-inch cutting width; adjustable mowing height from 1.5 to 3.5 inches
---
Types of Lawn Mowers
The market is thronged with different types of mowers but the key in getting to the right mower is knowing your lawn in terms of size and state. For reference, 16x16m is a small size, 19x19m is medium, 27x27m is large, and anything above is extra large.
For noticing the state, check out whether there are more of flower beds and trees or wide flat grasses. This is because the former will need a mower with small deck for easy maneuverability, while the latter might need a machine with a large deck due to lack of obstacles. Similarly, large yards, hills might demand walk-behind, self-propelled mower.
Reel Push Mowers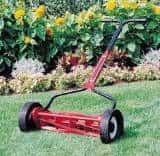 Also called manual or push mowers, these are the most eco-friendly ones, as you are the power supplier and that the operation is without any irritating loud noise or gas. Moreover, they are also among the least expensive options. Reel mowers feature curved blades for a high quality, close cut of 14-20″ wide.
They also do not need much maintenance, as only occasional blade sharpening is required and that they need little storage space.The limitation of these machines is the coverage; they go only as far as you push due to which they are best for smaller lawns. Further, reel mowers are unable to cut thick and tall grass and weeds, around obstacles, and mulch.
Corded Electric Mowers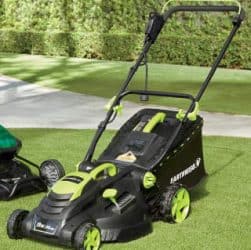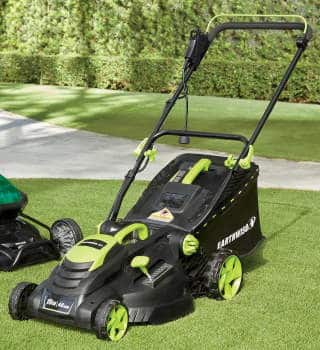 This is another green option but does not need as much pushing power as in case of reel mowers from you. Because there is no need of gas, you do not face any problem of exhaust or harmful emissions. Further, it is cheaper to operate and that the motor is easier to start as well as quieter than a gas mower.These models cut about 18-20″ wide and usually come with a mulching mode for finely cutting the clippings and fertilizing them as they decompose.
They also have a side or rear bag. Above all, maintenance required is very little except for blade sharpening.However, the big consideration is the length of cord, which is short enough to make you use a 100-foot extension. Therefore, ensure that your lawn is reachable in that distance, which is further restricted by obstacles such as trees coming in the way of cord.
Cordless Mowers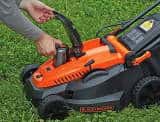 With the electric power eliminating the cons of gas, noise, exhaust, messiness, and high investment, this segment has become the most demanded one of all the categories. To add one more benefit, there is no limitation of the cord length. You are free to mow as far as the battery can operate, usually up to half an hour to an hour in terms of time.
As proactive users, many keep a surplus battery that they swap in case the one in use runs out for enjoying incessant mowing. The current trend is of using lithium batteries, as they are not only lighter in weight but also consume less time than lead acid ones when it comes to recharging.
Moreover, the lithium batteries retain full power until drained. While the inclusion of a battery does make it difficult to push especially on hills, a few models come with the self-propelled mechanism.
Self-Propelled Gas Mowers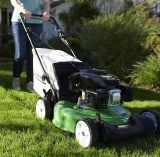 With such a mower, you get more power with least efforts, as the engine does the job of pushing the wheels. This is why these mowers are ideal for large or hilly yard. They are available in three variations namely, rear-wheel, front-wheel, and all-wheel drive.
Rear-wheel drive indicates that the drive system is behind the deck for ensuring steady traction over hills and cutting thicker grasses with fewer efforts.
In case of front-wheel drive system, you tend to alleviate tiredness while mowing lawns more than ¼ acres. This model is also ideal for good traction on flat landscapes with shorter grass and obstacles such as flowerbeds and trees.
All-wheel drive models ensure cool traction capability with all wheels while obtaining torque from the engine and alleviate the chances of slipping on wet and steep surfaces.
Push Gas Mowers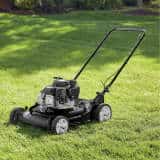 The only reason to use a gas mower over an electric or push reel model is having more power to cut larger yards at 21-22″ wide as well as deal tall and thick grass. If you buy the latest four-stroke engine, then less exhaust is produced than the older models. However, these models are noisier and need extra maintenance in the form of oil changes and regular tune-ups although the frequency and procedure varies from one model to another.
Nevertheless, a push gas mower is cheaper and need less maintenance than a self-propelled one. Therefore, such a model might be a good choice in case you do not need for mowing on hills or uneven terrain.
Zero-turn-radius Mowers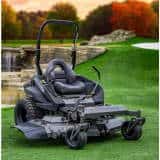 Also know as ZTR mowers, these are riding mowers with a rear-wheel steering and rear engine, rendering highest level of maneuverability. While a few have steering wheels, most have twin steering levers for turning circles in one place as well as bag, side-discharge, and mulch clippings.
They mow 42-48" swath but are pricier and that the overall results might not be that good. They might also lose traction and be tough to control on hills.
---
Buying Factors To Consider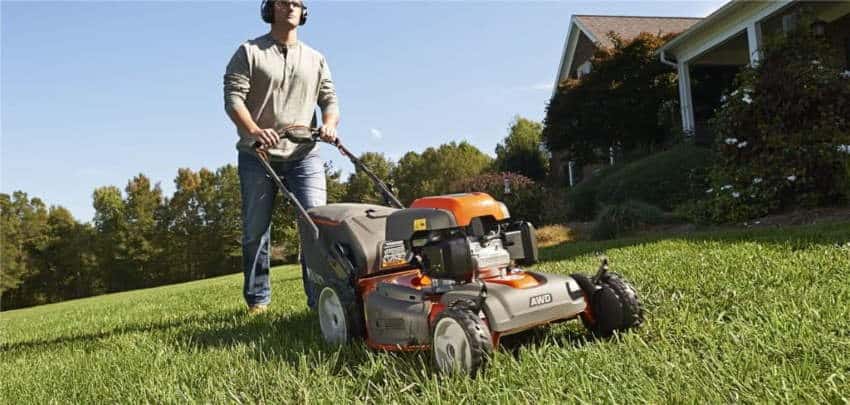 Selecting the right kind of mower needs careful analysis wherein you not only know the lawn size but also other significant considerations listed below.
Blade Type: Standard medium lift blade: Slight upwards angle at the back edges to discharge grass to the side leaving small cuttings that can go inside a discharge bag, High lift blades with higher upwards angle for bagging grass cuttings without littering, Mulching blade for shredding the cuttings into finer parts that act as a replenishing fertilizer.
Blade Width: Wider blade means more cut per pass, which is recommended for bigger lawns. If your priority is maneuverability, it is advisable to go for a blade with a smaller width.
Starting Mechanism: This involves choosing between manual and electric starters. The latter involves a button press or a key ignition to start the engine, while the former needs a medium to hefty pull on cord. Well, the trade-off between the two is truly the price. Obviously, of the two, electric mowers are costlier.
Conclusion:
Lawn mowers play an important role in lawn maintenance. You, as a buyer know your requirements. Choose that lawn mower which can serve you best according to your lawn size, and the grass type. Discussed above are some of the top rated best lawn mower reviews appreciated by many consumers. Definitely, one can be the best for you too!
Last update on 2022-08-07 / Affiliate links / Images from Amazon Product Advertising API