When it comes to cleaning, you need to make sure that you have the best and most reliable equipment that money can buy, at least as far as your price range is concerned. There is a lot of substandard equipment out there, and you have to consider what you are buying. Why? It might be tempting(more than tempting actually) to choose the cheapest equipment, but you have to consider the long term.
If you are buying it for a single job, then you will probably ONLY be using it for that job as it will break down shortly after. This is where the Sun Joe SPX3000 Pressure Washer comes into play. This is actually an incredible device that gives you the power of an industrial strength power washer right at home.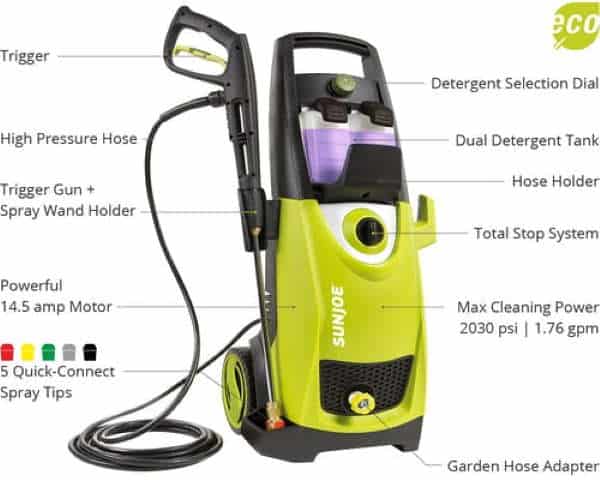 High Powered
Because of the high powered capabilities of the Sun Joe SPX3000, you can expect it take on all kinds of different tasks. These include the cleaning of homes, buildings, cars, trucks, decks, boats, driveway, patios, and so much more! The device features an 1800 Watt 14.5 amp motor allowing for maximum power and the ultimate cleaning capability.
Cleansing Capability
There are some messes which can prove to be too big or too nasty for elbow grease. This high end pressure washer embodies the latest and greatest in dual detergent systems. The Sun Joe SPX3000 utilizes two types simultaneously, and can easily switch between them using a convenient dial. To make it even better, it features a 34 inch extension spray wand and rear wheels. If this device could have a middle name, it would be 'Versatile'.
High Versatility Sun Joe SPX3000 Pressure Washer
You will immediately have the ability to optimize the output for your particular needs. The five connect spray nozzles interchange whenever you need, going from a small, high pressure pencil point stream, to a wide low pressure stream, all depending upon your needs.
Extensible
Since this is part of the Sun Joe line of pressure washers, there are many affordable interchangeable accessories, attachments and extensions you can get. Our favorite attachments are the Sun Joe SPX-RB1 Rotary Wash Brush Kit and the Sun Joe SPX-PCA10 10-Inch Patio Cleaning Attachment.
Other Features:
34 Foot Power Cord but you can get a 25 ft extension if you need
Everthing included–5 quick connect nozzles and two detergent tanks
Garden Hose Adaptor
TSS(Total Stop System) Shuts off the System when the Trigger is Depressed
Many interchangeable accessories and extensions
Full Two Year Warranty
CSA Listed
Sale
Sun Joe SPX3000 2030 Max PSI 1.76 GPM 14.5-Amp Electric High Pressure Washer, Cleans Cars/Fences/Patios
Questions, Text 563563 to chat directly with a Sun Joe expert
POWERFUL: 14.5-Amp/1800-watt motor generates up to 2030 PSI (at initial discharge per CSA internal pressure testing) and 1.76 GPM (with nozzle open at minimum pressure) of water flow
VERSATILE: Tackle a variety of cleaning tasks: homes, buildings, RV's, cars, trucks, boats, decks, driveways, patios, lawn equipment, and more. With two 0.9 L onboard detergent tanks, removable tanks carry and store different types of detergent to simultaneously tackle different cleaning projects.
TSS (Total Stop System): Automatically shuts off pump when trigger is not engaged to save energy and prolong pump life.
Max PSI at initial discharge per CSA internal pressure testing. Max GPM with nozzle open at minimum pressure.
Sale
Conclusion on the Sun Joe SPX3000 Pressure Washer
If you are like most homeowners then you know that there are times when you simply need to pull out the big guns. It is true that the Sun Joe SPX3000 Pressure Washer can be costly, but those who own one will say that it is well worth the cost. You can go from unboxing to cleaning your fence in minutes. Assembly only requires a screwdriver – everything else is quick connect. The Sun Joe SPX3000 Pressure Washer is a device that will last you for many years to come, so start planning your next cleaning session and buy one at your earliest. What more could you ask for?
Last update on 2021-09-21 / Affiliate links / Images from Amazon Product Advertising API