Finding the correct table saw can be difficult! In fact, many people purchase the incorrect unit that doesn't meet their expectations. In this Makita 2705 Contractor Table Saw review we will be providing you with an in-depth run down of one of the most popular table saws. Hopefully this Makita 2705 buyers guide will give you a better insight into the abilities of this particular table saw.
NOTE: There are two models, the Makita 2705 and the Makita 2705×1. The only difference is that the 2705×1 comes with a durable and portable stand with heavy-duty wheels and powder coated finish for extended durability. The spring loaded system is easy to adjust and fold for storage.
Specifications
Model: 2705
Blade: 10 inch
Weight: 82lbs
Product Dimensions: 36 x 16 x 32 inches
Style: Table Saw
Arbor: ⅝"
Bevel: 2-47 degrees
Maximum Cutting capacity at 90": 3-⅝"
Maximum Cutting capacity at 45": 2-½"
Table Size (Width x length): 24-⅝" x 22-¼"
Power: 120V, 15.0A, 4800 RPM
Warranty: 1 Year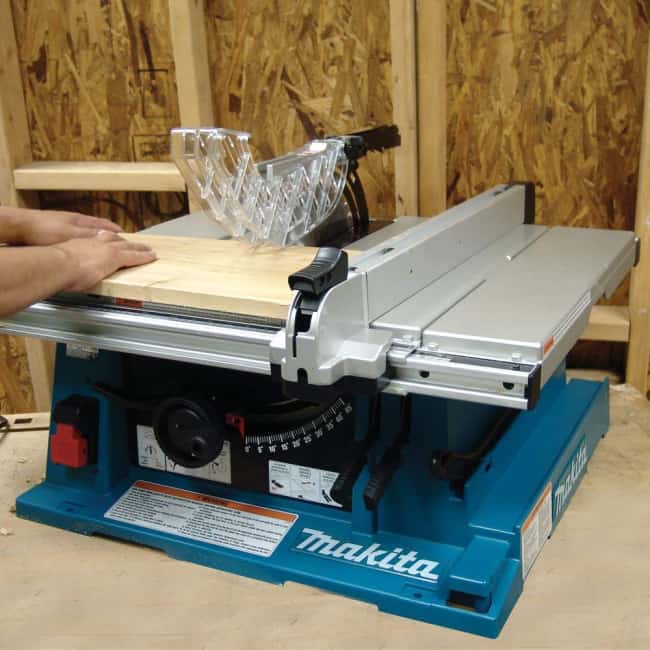 Pros
Made in the US
Powerful motor
Minimal noise
Sturdy aluminum construction
From a well-respected brand
Table is extendable
Cons
No ties in the internal storage
No sleeve bearing on the hand wheel
The throat plate could be more sturdy
The aluminum used is secured only by a single screw
Who is the Makita 2705 Table Saw for?
If you're looking for a reliable contractor saw, the Makita 2705 contractor table saw is built with you in mind. Professionals will appreciate its precision, while hobbyist will love the precision.
What's Included with the Makita 2705?
10" x 32 tooth carbide tipped blade
Rip fence
Miter gauge
Push stick
5" wrench
19" wrench
Adjustable blade guards
Adjustable riving knife/spreader
2705X1 model only – portable saw stand
Makita 2705 Contractor Table Saw Features
Power – When it comes to power, the Makita 2705 contractor table saw won't let you down. In fact, this is one the most powerful table saws. The unit is fitted with a 15-amp motor that delivers 4800 RPM. As such, the power is easily capable of cutting through any wood.
It is recommended to use a surge protector when using this unit. You should also ensure you have an outlet that is compatible with the polarized power plug.
Build – As you may have seen in the product description, the Makita 2705 is known for its compact build. One of the most important parts of the construction is the dual side guards which allow for wood of any size to be measured and cut easily.
Even though a weight of 80lbs isn't massively heavy, the 2705 can be hard to move from job to job – this is because the unit doesn't have a wheeled-base.
You'll be pleased to know that all components are sturdy, robust, and made to a high standard. The core material of the 2705 is aluminium, with a base crafted from a plastic material. The Makita warranty guarantees against any product or manufacturing faults.
Performance – The Makita 2705 contractor table saw looks the part, but how does it perform? Well, you'll be pleased to hear that the Makita 2705 performs well and is very precise. The unit is fitted with a range of instruments that allows for maximum accuracy.
Safety – As far as the safety goes, the unit has a number of features. Now, these aren't premium features, but the unit has all the essentials. As we have previously mentioned, the table saw has a see-through blade guard that allows you to see the blade as it contacts the wood. The 2705 also comes with a pair of anti-kickback mechanisms fitted into the base. The electric brake is able to take the saw from full revolutions to a complete stop within seconds.
Like with any power device or tool, this table saw should not be used without safety goggles. We would also recommend to only working in areas with adequate lighting and good ventilation. The machine is only meant for wood, making it important to ensure there are no nails or other objects in the wood.
Dusk collection – This is an area that is kind of a letdown. You see, the Makita 2705 contractor table saw doesn't have an accessory for dusk collection, which makes it possible for wood shavings to become trapped. With that said, this issue can be solved by fitting a vacuum hookup or third-party dust collection bag.
You may always want to do frequent cleaning to keep yor saw in tip-top condition. Using an air compressor can be a great way to remove any dust from previous jobs.
User-friendly – The Makita 2705 has been made with easy-0f-use in mind. In fact, it is easy to use for both professionals and woodworking hobbyists.
We especially love the blade guard that allows users to see the wood as the blade makes contact. This feature alone ensures precision when making cuts.
When cutting, you want to ensure you're cutting to the correct dimensions. Fortunately, the 2705 bold measurement labelling, which means users can cut to the exact specification. Contractors will appreciate the smooth operation of the lowering and raising the blade, as well as the rest of the machine.
Warranty – When spending your hard-earned money, you want some confidence that you won't lose out should your welder go wrong. Fortunately,
Conclusion on the Makita 2705
To conclude, the Makita 2705 contractor table saw is a high-quality table saw that you'd expect from such a well-respected tool brand. With high versatility and supreme cutting power, the 2705 can be used by both professionals and amateurs alike. In fact, the unit includes everything one would need from a table saw. With that said, the unit has a few minor faults so you may want to check out our other table saw reviews. We would have preferred if the storage cavity came with fitted ties for accessories. More screws would also be welcome.
Makita 2705X1 10" Table Saw with Stand
Powerful 15.0 AMP motor delivers 4,800 RPM for improved performance
Large cutting capacity (3-9/16" at 90° and 2-1/2" at 45°); rips 4x material in one pass
Large 25" ripping capacity for cutting plywood/sheet material
Easy to read scale with magnifying glass for increased accuracy
Smooth action rip fence slides easily across the table for fast adjustments
Last update on 2023-09-07 / Affiliate links / Images from Amazon Product Advertising API