If you are a commercial builder the Bosch 1/2 inch Cordless Impact Wrench is an excellent addition in your toolbox. It has more than enough power to remove sturdy bolts and nuts.
This tool is compatible with all 18v lithium-ion batteries. A unique battery cooling system makes it preferable, especially for long projects in hot weather.
You want the best high-quality cordless impact wrench to get your projects done efficiently, then this model of impact wrench is for you.
Pros
Lightweight and Powerful:
The Bosch IWHT180B is a machine whose ergonomic design helps to handle difficult work comfortably. It has a comfortable, rubberized grip that helps to handle the cordless impact wrench for hours.
Nose piece design makes it compact for working in tight spaces without any trouble. This Bosch 1/2 Inch Cordless Impact Wrench has a torque-speed up to 500 ft-lbs. You can use a cordless impact wrench for changing tires of cars with no effort.
Easy to work:
There are different features available in cordless drill products that reduce the user's fatigue, and you have unlimited access to the deep and complicated areas quickly for removing lugs. Belt hook makes it more comfortable that allows hooking the tool at any place when not in use. Newer 18v cordless impact wrench has built-in LED lights to illuminate the dark areas for efficient work. The particular impact wrench has a unique cool pack system for pulling heat away from the inside battery. This advanced feature helps to maintain the cooling of battery during the long, hardcore project.
Warranties:
Different sellers offer different policies it may concern to repair and returns, make sure about the warranty offer from the manufacturer and keep receipt of buying to claim warranty. Usually, every company provides 30 days money-back guarantee in case of any damage or technical issue. After 30 days, you will have a year warranty for the users, and customer support is active full time for answer queries.
Cons
The Bosch IWHT180B takes more than one second to spin the driver to full speed as compared to other models. They spin up immediately with full power.
It can't take off lug nuts of heavy trucks, it needs more power to make it efficient.
It does not come with a battery or case. Those needed to be purchased separately. But this may not be an issue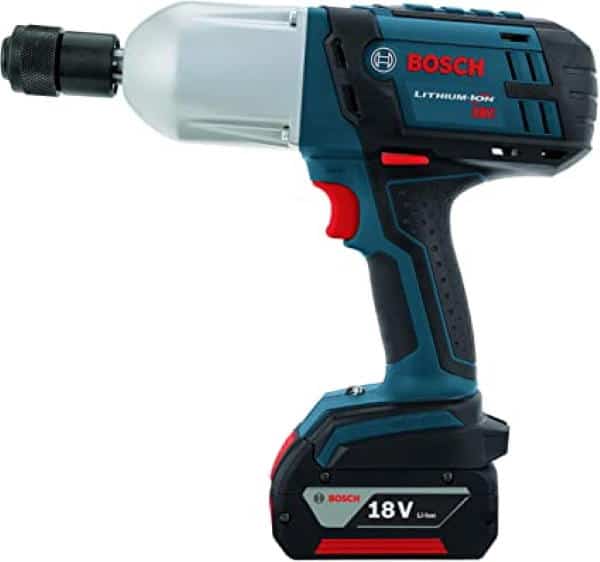 FAQs
Will this remove a lug nut from a vehicle?

Yes and No. Bosch 1/2 inch Cordless Impact Wrench is used to work mostly on wood, or sometimes it's called carpentry tool because of its 1/2 inch drive is not capable of removing lug nuts off of heavy vehicles. Bosch makes a 18V ½ drive impact gun that can help to handle lugs and nuts of wheels.
Why is this model more expensive and less torque than Milwaukee?

Because Bosch makes this product's motor out of metal. As well, the Unique Cool Pack Design helps to work for long periods, and it offers a money-back warranty.
Is one battery charge enough to work the four tires?

No, You will need the Bosch IWHT180B 18v cordless impact wrench which provides high-torque 500 ft-lbs to handle tire work.

You can buy batteries separately, and the tool is compatible with all 18V lithium-ion batteries. Core batteries provide high power, long runtime, and more capacity for hardcore work.
What is the capacity of the battery?

This Bosch 1/2 inch cordless impact wrench uses an 18V lithium-ion battery of 4.0 AH; it can handle projects which require moderate power level for a long time.
---
Bosch 1/2 Cordless Impact Wrench (IWHT180B) comes with the following features:
1 Battery life and charging time:
This is a bare tool with 18V lithium-ion batteries, Bosch provides a recharging functionality in this model, so you don't need to buy extra batteries again and again.
2 Led light:
The built-in LED light helps to make work easier in confined dark areas, especially when trigger pressed at the start of work.
3 Weight:
The most lightweight (5.2 lbs) and long nose design makes this Bosch 1/2 inch cordless impact wrench handy and efficient.
4 Speed:
This tool is known as high torque impact wrench additional feature of the machine is friction ring, and the value of torque is 500 ft-lbs and provides enough speed to work on home-based as well as commercial constuction work.
5 Ergonomic design:
The good ergonomic design, the soft grip increase hour production as well as quality and can helps prevent worker fatigue.
6 Accessories:
This Bosch 1/2-Inch Square Drive High Torque Impact Wrench tool kit has a 2.0 AH li-ion battery, fast charger, and tool bag.
7 Maintenance:
Bosch IWHT180B helps to turn screws and bolts comfortably, especially if they are crammed into a tight place. To keep your machine running smoothly and maintain a long life span, you need to follow some tips.
Never use the wrong bits and sockets in cordless impact wrench; it may increase the chances of breakage or dangerous accident.
Check your tool parts regularly; if you find any indication of damage, you need to repair your tool before the next use to avoid any injury. If you can't repair your device, call a technician to inspect and repair your tool.
Clean and lubricate the impact wrench according to the instructions of the manufacturer.
---
Who can use this cordless impact wrench?
The Bosch 1/2 inch Cordless Impact Wrench has a torque value of 500 ft-lbs; this tool is used for all-purpose work within the power limit of the machine.
---
What do I like about this drill?
I like the cool pack technology; it helps to conduct/dissipate the heat, which keeps the battery cool and helps to maintain consistent temperature levels throughout long projects. I love this cordless impact wrench for small car repairs & repairing the wooden fences on my little acerage, and it's a big savings for me.
---
What didn't I like about this drill?
I didn't like the batteries and charger are sold separately. Now, if you already have some Bosch tools, the batteries are interchangeable so this may not be much of an issue for some.
As well, This tool can't help me to take off lug nuts of my heavier duty vehicles, and it needs more power improvement for hard tasks.
---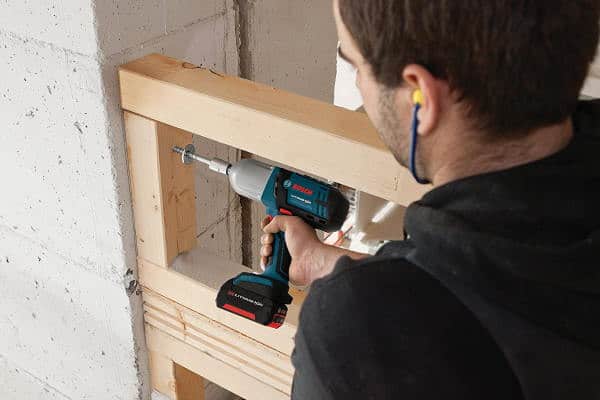 How Does Bosch IWHT180B Compare to Other Drills?
DeWalt DCF894B Max XR Cordless Impact Wrench Vs. Bosch 1/2 inch Cordless Impact Wrench
The Dewalt DCF894B Max XR Cordless Impact Wrench has a compact, ergonomic design like the Bosch IWHT180B, torque value is 330ft-lbs and 500 ft-lbs, respectively.
The Dewalt has two-speed settings to work on a variety of projects; it can help to control forward and reverse rotation. While the Bosch IWHT180B has a soft rubberized grip to carry the impact wrench easily and can work efficiently without slipping down.
Both tools offer a limited time warranty, and you can purchase it without thinking.
Bosch 24618-01 1/2 inch Square Drive Impact Wrench Vs. Bosch 1/2 inch Cordless Impact Wrench
The Bosch 24618-01 has the approximately same functionality, but it has more power to handle hardcore projects. As well, the Bosch 24618-01 comes in a kit that includes the 18-Volt Lithium-Ion 1/2-Inch Square Drive Impact Wrench Kit with 2 Batteries, a Fast Charger, and a case.
The Bosch 24618-01 provides the highest BPM in impact wrench category over 3200 BPM and faster torque 2800 RPM and 1600 ft-lbs. On the other hand, Bosch IWHT180B comes with one battery and offers 500 ft-lbs torque to perform required tasks.
---
What do Users Say about the Bosch IWHT180B Cordless Impact Wrench?
People reviewed the Bosch 1/2 inch cordless impact wrench as a steady beast; it has more specialized features than a driver/drill.
Efficient in work, especially design nose, helps to work in tight spaces. Users are happy that this Bosch 1/2 inch cordless impact wrench fits with the old 18V batteries, and one thing is common in all cordless drills or drivers; they do make noise during work.
---
Final Thoughts
The Bosch 1/2 inch Cordless Impact Wrench is the most recommended tool for someone who is searching for a product with an affordable price. It has sufficient power for most jobs and includes an ergonomic design and a soft grip.
No matter how difficult the work is and how much time you need to complete the task, it is one of the best cordless impact wrenches with more than sufficient energy.
BOSCH GBA18V80 18V CORE18V® Lithium-Ion 8 Ah High Power Battery
PERFORMANCE: Delivers 50% more runtime and over 75% more power than CORE18V 4 Ah battery, powering high-demand applications
EFFICIENCY: Features two layers of enhanced 21700 cells for greater battery efficiency
BOSCH-EXCLUSIVE COOLPACk 2.0 TECHNOLOGY: Cools the battery and helps provide longer battery lifetime compared to non-CoolPack Bosch 18V batteries
CUTTING-EDGE BATTERY DESIGN: Includes copper end plates, power rails and a flexible circuit board, offering reduced resistance and increased efficiency
COMPACT OPERATION: Weighs only 2.14 Lbs., for the ideal balance of size, weight and power
Last update on 2023-11-05 / Affiliate links / Images from Amazon Product Advertising API